Libby Lane appointment: Women bishops debate not over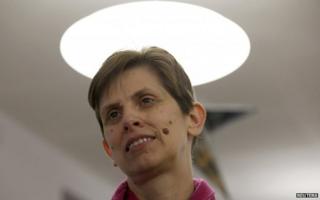 The appointment of Rev Libby Lane as the Church of England's first woman bishop has been widely welcomed.
Many say that this moment for the Church is long overdue, coming some 20 years after the first women were ordained.
For those who have campaigned for years on the issue of women priests, this is a day for celebration, as it marks the logical extension of the Church's decision taken two decades ago to admit women as priests.
Nonetheless, opponents who believe that the Bible states clearly and for all time that women should not have leadership roles within the Church are unlikely to change their minds.
Mrs Lane said that the news, which she has known since her interview for the post in November, had come as an unexpected joy. She described it today as remarkable for her, and historic for the Church - saying she was both excited, and a little daunted.
Justin Welby, the Archbishop of Canterbury, steered the general synod skilfully to this moment, through discussion, debate and prayer, trying to ensure that despite the differences of opinion within the synod on women bishops, all sides could learn to "disagree well", and respect those differences while remaining within the Church.
The primate describes Mrs Lane as "an extraordinary person", and "a thoughtful, profoundly theological person who reflects". He also believes that her "lively sense of humour and lack of self-importance" will help her cope with the pressures of being the first woman bishop.
Nonetheless, there are likely to be difficult times ahead for those who remain opposed to the concept of women in such a leadership role within the Church, despite the provisions made for them, such as "flying bishops" who can minister to opponents.