Prisoner call monitoring measures 'largely effective'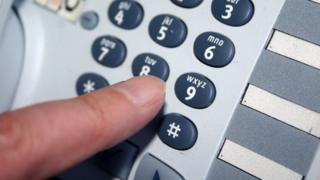 Urgent measures to stop prisoners' phone calls being inappropriately tapped have been "largely" effective, a report by inspectors has found.
But the Chief Inspector of Prisons said "more needed to be done" to ensure inmates understood their responsibility to identify confidential numbers.
The report marks the end of the first stage of an inquiry ordered by the justice secretary, Chris Grayling.
The next stage will focus on recordings of calls between prisoners and MPs.
Steps taken by the National Offender Management Service (NOMS) to minimise future risk of such occurrences have not been "wholly effective" - admits the Chief Inspector, Nick Hardwick, the report's author.
"Insufficient action was taken to ensure that one private sector provider, Serco, who use a different telephone monitoring system to public and other private sector providers, had introduced equivalent measures," he said.
During the course of their investigation, inspectors discovered that calls between prisoners and the suicide prevention charity Samaritans may have been recorded and listened to.
'Decisive action'
Responding to the HMIP's findings, shadow justice secretary Sadiq Khan said:
"Today's report raises the prospect that confidential conversations between prisoners and MPs are continuing to be recorded five weeks after it first came to light... ministers need to take immediate and decisive action and confirm that recordings of this nature are no longer taking place."
Announcing the Prison Communications Inquiry to the Commons last month, Mr Grayling said: "This is a serious matter and I would like to start by apologising to the House on behalf of my department for any interception of communications between a prisoner and their constituency MP."
Mr Grayling also said he believed all recordings had been destroyed, as they were only kept for a limited period.
The second stage of the inquiry will look at the circumstances of how these telephone calls came to be recorded in the past, and is due to be completed early in 2015.