Counter-terrorism arrests: Two men held in Luton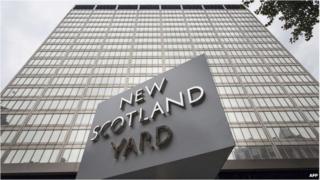 Counter-terrorism police have arrested two men in Luton on suspicion of supporting a banned organisation.
The men, aged 37 and 61, were detained by officers from the Metropolitan Police's Counter Terrorism Command (SO15), Scotland Yard said.
Police said the suspects - both arrested on suspicion of "supporting a proscribed organisation" - had been taken to a Bedfordshire police station, where they remain in custody.
No more details have been released.
Under the Terrorism Act 2000, 63 organisations are currently banned under UK law for being "concerned in terrorism".
This makes it a criminal offence to belong to these organisations, or to support them in ways such as attending meetings or donating money.
Additionally, 14 organisations in Northern Ireland are "proscribed international terrorist groups".