British embassy in Egypt reopens to public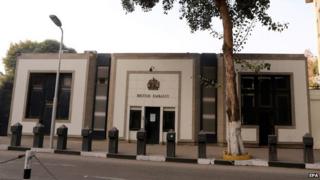 The British embassy in Egypt has reopened after being forced to close to the public for security reasons, the foreign secretary has said.
The building in Cairo suspended services on 7 December and told members of the public not to visit the site.
But the Foreign Office said the issues had been resolved and Foreign Secretary Philip Hammond confirmed all services had resumed on Tuesday.
He thanked the Egyptian government for their "close co-operation".
During the closure, visa applications among other services were suspended.
'Open for business'
John Casson, Britain's ambassador to Egypt, said: "It is great news that, thanks to the vital cooperation of the Egyptian government, we have today restarted full public services at the British embassy in Cairo.
"Britain is fully open for business in Egypt."
In its travel advice for Egypt, the Foreign Office continues to urge vigilance.
It says there is a "heightened threat of terrorist attacks globally against UK interests and British nationals from groups or individuals motivated by the conflict in Iraq and Syria".
It warns against all travel to North Sinai, and all but essential travel to some areas including South Sinai; within 31 miles of the border with Libya and the area west of the Nile Valley and Delta Regions.
However, popular tourist destinations along the Nile River, including Luxor and Red Sea resorts such as Sharm el Sheikh, are not mentioned in the advice.