Madeleine McCann: Portugal police to conclude interviews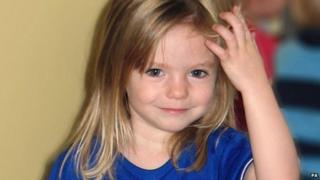 Portuguese police investigating the disappearance of Madeleine McCann are expected to finish questioning witnesses later.
Madeleine, from Leicestershire, went missing from the Algarve resort of Praia da Luz seven years ago.
The inquiry was reopened in 2013 after British police began probing the case.
British expat Robert Murat - who is not a suspect - has been interviewed at Faro police station. He is the 10th person to be questioned this week.
He told the BBC he had answered all the questions asked by Portuguese police and said he would not be returning to the police station.
Mr Murat was a suspect in the case in 2007 but was later cleared of any involvement in Madeleine's disappearance.
He won substantial damages from British newspapers over how he was portrayed at the time, and told the BBC last month he had "no problem speaking to the police again".
---
At the scene
BBC correspondent Duncan Crawford, in Faro
Robert Murat sped into Faro police station this morning, driven to the rear entrance in a silver car as camera crews and photographers tried to take his picture.
It is the second time the British expat has come to be questioned as a witness in three days.
On Wednesday, Mr Murat spent around seven hours inside the station with other witnesses, including his wife. But a source close to the investigation has told us that officers didn't have time to speak to him.
Photographers remain on the narrow cobbled street in front of the police station waiting for DCI Andy Redwood - the UK police the officer leading the inquiry - to arrive.
Despite repeatedly being questioned by journalists this week, DCI Redwood has declined to comment on whether detectives have made any progress in their multi-million pound investigation.
---
Former employees
Scotland Yard's Operation Grange was set up in 2011 after Prime Minister David Cameron asked the force to "bring their expertise" to the inquiry following a request from Madeleine's parents Kate and Gerry McCann.
It formally launched a new investigation last July and made renewed appeals for information. Portuguese police, who closed their initial investigation in 2008, reopened their inquiries last year.
The Met Police have supplied more than 250 questions for Portuguese police to ask the 11 witnesses - seven Portuguese and four British - and its detectives are observing the interviews.
Other witnesses interviewed already this week include Mr Murat's wife and three former employees of the Ocean club hotel, where Madeleine was staying.
An 11th person, a woman who is currently in the UK, will also be questioned in Portugal at a later date.
---
Thursday 3 May 2007: Timeline
20:30 Kate and Gerry McCann leave their apartment to have dinner at a Tapas bar
21:05 Gerry McCann checks on Madeleine and her siblings
22:00 A man is seen carrying a child wearing pyjamas heading towards the ocean
22:00 Kate McCann raises the alarm that Madeleine has gone missing
---
Earlier this year detectives from London flew to the Algarve to assist with searching scrubland near the resort where Madeleine disappeared when she was nearly four years old. But they did not uncover any evidence.
The British officers in Portugal include Det Ch Insp Andy Redwood, who has been in charge of the case since 2011.
He is due to retire later this month and his duties will be taken on by Det Ch Insp Nicola Wall, who has also joined him on the trip.