Many expect to spend Christmas alone, BBC poll suggests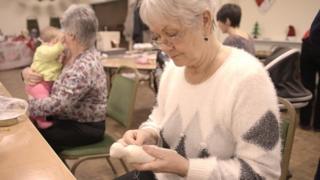 Some 28% of British adults feel lonely at some time, according to a survey carried out by BBC Radio 5 live.
The poll, of 2,000 people, indicated that 7% of all adults and 10% of those aged over 65 expect to spend Christmas mostly on their own.
Men were more likely to say they would spend Christmas alone, as were those from poorer backgrounds.
A spokeswoman for the Campaign to End Loneliness described the findings as "very concerning".
The study, carried out by the BBC and Comres, suggested:
28% of adults say that they feel lonely at least some of the time
33% say they feel left behind by new ways of communicating and 85% prefer speaking to friends and family face to face
65% think they should do more to help family, friends and neighbours who are lonely
18 to 24-year-olds are nearly as likely (30%) to feel lonely as those over 65 (31%)
Laura Ferguson, director of the Campaign to End Loneliness, emphasised that "loneliness is not just experienced at Christmas, so we all need to support people year round".
The charity advises that loneliness can be transient - coming and going at certain times - or chronic, when someone feels lonely all or most of the time.
Risk factors
Loneliness can be felt at any age, but as people get older, risk factors that might lead to loneliness begin to increase and converge.
Risk factors include but are not limited to:
Poor health
Lack of public transport
Loss of mobility
Lower income
Bereavement
Fear of crime
Retirement
Source: Campaign to End Loneliness
To coincide with the publication of the polls findings, the BBC has produced a series of programmes and interviews exploring the circumstances of people who feel lonely and how they have addressed it.
Speaking to 5 live, 29-year-old Jaabir described it as "a gut-wrenching feeling - you have a void that nothing can fill".
Vicki Waddingham, 32, an accountant, was diagnosed with breast cancer four months after getting a dream job in Manchester.
She had surgery, radiotherapy and chemotherapy.
Ms Waddingham told the BBC: "The hard times were when I was in hospital and visiting time ended and I would lie awake listening to the sounds of the hospital and there was no denying that I was really ill and I felt so alone."
'Too exhausted to go out'
"Going back to work was hard. Everyone was supportive and welcoming, but I had been caught in the cancer bubble.
"I didn't know anyone very well and used all my energy at work. So when I was not at work I was too exhausted to go out and meet people or do any of the things I enjoyed doing."
The BBC visited some of the programmes designed to help people who feel lonely.
One such project, the Burtonwood Sewing Group near Warrington, is a group of around 35 people who meet every week.
Anne Carr, the group's founder, said: "You can be in a room full of people and you can be lonely, but you come to a place like this and it encourages you to speak to one another."
Another initiative filmed by BBC North, the Manchester Camerata orchestra's Songlines project, helps isolated autistic children to communicate through writing music.
The government has previously highlighted loneliness as a source of "national shame", and the prime minister is among prominent figures who have taken part in national campaigns to tackle loneliness.
Watch and listen to stories across BBC radio and TV during A Life Less Lonely on Friday and on bbc.co.uk/lesslonely.