Citizenship checks missed criminal records, report finds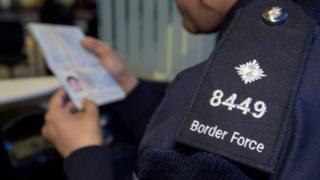 The Home Office has granted British citizenship to people with "very poor immigration histories", according to the chief borders inspector.
Citizenship was being approved without checking applicants' criminal records in their home country, John Vine found.
In one case, officials did not look at files showing an asylum seeker had killed someone in their home country.
The Home Office said most of the issues were down to "wrong-headed decisions taken by the previous government".
Mr Vine, who will step down as chief inspector of borders and immigration at the end of this year, looked at 179 applications as part of a study of nationality casework.
He said he had been "concerned" to discover that applications for UK citizenship were not being scrutinised appropriately.
The chief inspector agreed that decisions to refuse citizenship had been made correctly, but found that in several instances citizenship was granted without checking all the information available.
British citizenship had been granted to one person who had previously stabbed someone, and to another who had lived and worked illegally in Britain for 13 years.
Analysis
Danny Shaw, BBC home affairs correspondent
Citizenship is a serious business: last year, 235,000 people applied for UK citizenship, only 3% of whom were refused. It brings substantial benefits - including the right to a British passport, the ability to travel without restrictions into and out of the UK and an entitlement to vote and hold public office.
Allowing people with a criminal record or a history of breaching immigration laws to become British nationals has the potential to undermine security - and may suggest to some that the UK's immigration system is not only mismanaged but also a "soft touch".
If true, it's politically toxic. Does that explain why the Home Office took three months to publish the report? Ministers will deny it - but the publicity generated by John Vine's inspections is undoubtedly something they'd rather avoid.
Citizenship can be refused if someone has not been in Britain for long enough, if they have a recent or serious criminal record, or if they are judged not to be of "good character".
The report turned up no evidence that authorities were attempting to prosecute those who had lied in their applications, except in a few cases involving organised crime.
'Serious failing'
While caseworkers generally provided good service and took account of automated police checks, the chief inspector concluded, they did not have routine access to paper records relating to individuals' histories.
This amounted to a "serious failing" and made it likely that the failure to notice that one asylum applicant had previously killed someone "was not an isolated case".
Immigration and security minister James Brokenshire argued that most of the mistakes identified were the result of the previous government's approach.
He drew attention to a number of changes brought in by the coalition such as scrapping the UK Border Agency, introducing interviews for visas and the reintroduction of credibility checks.
British citizenship should be "treated as a privilege for those who deserve it, not an automatic right for those who do not", the minister added.