Terror law reform signals fundamental shift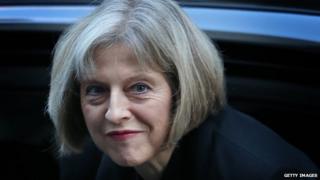 Monday sees the return of the government's Counter Terrorism and Security Bill to the Commons where MPs will get their say on the legislation's most controversial measure: should ministers be able to ban British citizens from coming home?
Under the proposal, Home Secretary Theresa May would be able to sign a Temporary Exclusion Order (TEO) to ban a suspected extremist from returning home to the UK for up to two years at a time.
The individual could return if they agreed to some kind of investigation or monitoring arrangements to ensure they were not a threat.
Home secretaries can already cancel passports under the Royal Prerogative - but the power cannot be used at the drop of a hat - and it cannot be used to stop someone coming home.
British law is quite clear: if you are a British citizen, then you have the right to abide in the UK.
So how does the legislation propose changing things?
Clause One of the new bill aims to take some pressure off ministers by allowing police and border officers to confiscate passports and tickets at the border gate if they suspect that someone is leaving the UK to become involved in terrorism - or they are returning from having done so.
In practical terms, it would clearly disrupt someone's plans because they would find it a lot harder (although not impossible) to disappear overseas without travel documents.
But in legal terms, the right to challenge a confiscation at port is pretty limited and is likely to see some substantial questions in parliament.
A senior police officer can approve retaining a passport for more than 72 hours - and if they still want to hold it after two weeks, a court can give police up to 30 days to do so.
By way of comparison, if a police officer arrests and locks you up on suspicion of a crime, they must charge or release you within 24 hours. If you are suspected of a serious crime like murder, they can ask a court for permission to hold you further, up to a maximum of 14 days in terrorism cases.
Balance of rights
Creating a balance between the police's right to "confiscate and investigate" and the individual's right to travel is likely to be the parliamentary battleground.
But critics will still say that this bill puts too much unchecked power in the hands of the state - not least because of the proposed TEOs.
Four conditions must be met for the home secretary to use this power:
She must reasonably suspect that the individual is or has been involved in terrorism-related activity outside the UK
An exclusion order would be necessary to protect the public from the risk of terrorism
The individual is outside the UK
The individual has the right to live in the UK
If she then imposes a TEO, the individual can't get back into the country unless the home secretary issues a permit - or they have no choice because they've been deported home.
How do you get a permit? By agreeing to a number of conditions, such as a police interview or admission to some kind of de-radicalisation scheme.
Putting aside the practical question of whether any nation would happily house the UK's suspects just because the government doesn't want them back, the whole point of a TEO is to create some kind of breathing space for the "managed return" of people about whom the security services have concerns.
But TEOs will face tough questions in parliament and, almost certainly, a slew of legal challenges as soon as they are used.
Presumption of guilt
One major criticism is that TEOs lead to somebody being "sort of guilty" without being convicted of a crime or going through a legal process to justify restrictions on freedom.
David Anderson QC, the terror laws watchdog, put it another way when asked by MPs what he thought: where are the courts in all of this?
When the home secretary imposes a TPim monitoring order against a terrorism suspect, there is an automatic review of that decision by a judge - including examining in secret the intelligence used to justify the move.
There is no such automatic judicial oversight built into examining the rationale for imposing a TEO.
That means that someone could find themselves barred from the UK until they accept a form of monitoring - even if they would want to argue that it is unnecessary because they pose no threat to their own country.
There are precedents: not a single Muslim who 20 years ago went to fight against the Serbs in Bosnia faced prosecution in the UK for doing so. More recently, Whitehall was quite relaxed about British-Libyans leaving the UK to fight alongside other jihadists against Col Gaddafi's regime.
The Danes have, in contrast, started to do it differently.
They are allowing fighters to return home in the hope that the authorities get a better chance to differentiate between those who will go back to a quiet life and those who are genuinely dangerous.
The British want to be able to do the same - it is just that the route to getting there is different.