Foreign bricklayers 'on £1,000-a-week amid skill gap'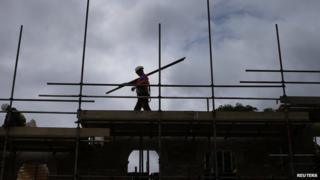 Building companies in London have hired Portuguese bricklayers on £1,000-a-week wages because of a shortage of skilled Britons, a recruitment firm has said.
The finding was revealed by Manpower, whose research is said to have confirmed industry fears of a lack of suitably-trained workers.
Manpower managing director Mark Cahill said he was told the normal £500-a-week pay for bricklayers was being doubled.
The government says it is working with firms to "nurture home-grown talent".
According to Manpower's research, prospects in the construction industry are at their strongest level since 2007.
But one-in three large construction firms in London are said to have decided not to bid for projects because of a lack of skilled workers.
James Hick, a spokesman for ManpowerGroup, said while there were no figures available for the numbers of companies that have had to hire workers from Portugal, the report showed there were clearly "very wide issues in terms of available skills for the construction sector as whole".
"The profession has not been that attractive for new entrants during the downturn, which is combined by an aging workforce and lots of people leaving the sector," he said.
'Young lads'
Charles Balson from Leigh-on-Sea, Essex, is a bricklayer who says £1,000 per week can be the going rate for experienced bricklayers.
"It's a fair wage because it's a skilled trade. It takes years of experience to earn that kind of money," he told the BBC.
"But it's terrible that people from overseas are being paid that sort of money. Companies should be pumping some of that into teaching young lads in this country."
However, he said all the foreign workers he knew were labourers rather than skilled bricklayers.
Foreman Neil Gregory, from Leighton Buzzard, Bedfordshire, said a cut in bricklayers' pay during the recession was a significant reason why there was now a shortage in the industry.
"At the start of the recession bricklayers' money was slashed by over £40 per day.
"If you add that to the amount of non-paid days through the winter then, you are no better off than people working in Tesco or Asda.
"The backlash of that is a lot of good bricklayers bailed out and changed jobs."
According to the National Careers Service, formal qualifications are not necessary to become a bricklayer but employers will usually require some form of on-site experience.
It suggests taking up an apprenticeship scheme with a construction company or taking a college course in bricklaying.
Once employed, further training is available, such as a diploma in bricklaying.
Steve Turner, of the Home Builders Federation, said the huge increase in house-building activity had started after the launch of the government's Help to Buy scheme last April.
He said: "The industry has had to recover a lot of its workers very quickly, so as a result there have been pinch points.
"There's a lot going on in terms of taking on apprentices and recruitment... but clearly in the short term there is a pressure on skills - and bricklaying is not the only one.
"Across the board there is a drive in the industry to recruit people of all trades."
New homes
Steve Murphy, general secretary of construction union Ucatt, said any skill shortages were a direct result of the industry "failing to invest in the future".
"The industry goes to great lengths not to employ workers directly and in that environment it is unsurprising that companies are not prepared to invest in apprentices, the workers of the future," he said.
Business Secretary Vince Cable said the government was working closely with the construction sector "to ensure it has the talent it needs to grow through a mixture of industry-designed apprenticeships and employer-led training".
A spokesman for the Department for Communities and Local Government said planning permission had been granted on 230,000 new homes in the last year and the government wanted to ensure British workers benefited from the new opportunities.
"In November ministers agreed with the housebuilders to create tens of thousands of jobs and apprenticeships on sites across the country," he said.
Manpower's survey of more than 2,000 employers in all sectors suggests larger companies are set to lead a job creation "charge" early next year.
Utilities were found to be the most optimistic industry, on the back of investment by energy firms.
Mr Cahill said: "2014 was a bumper year for jobseekers, with the highest level of job creation in 40 years."
He said 2015 will begin with employers in an "even more confident position and we are optimistic about job prospects for the rest of the year. The main catalyst is big business hiring".
Employers in the north-east of England reported the brightest outlook for jobs among the regions, particularly in customer service jobs.