Prince William consoled family of nurse caught by phone hoax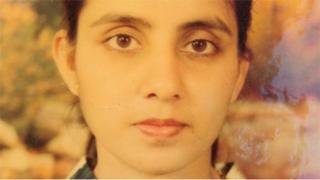 The husband of a nurse who killed herself after taking a prank call to medical staff treating the Duchess of Cambridge says he was consoled by a letter from Prince William.
But Ben Barboza told the Mail on Sunday he could not forgive the hoaxers.
The prince wrote to Jacintha Saldanha's family to convey his sympathy for them after her "unbelievably sad" death.
She was found dead on 7 December 2012, three days after the hoax staged by Australian radio presenters.
It took place while the duchess was being treated for morning sickness at King Edward VII's Hospital in London during her first pregnancy.
Mrs Saldanha, a 46-year-old wife and mother of two whose family lived in Bristol, was the first nurse to answer a call by DJs Mel Greig and Michael Christian who had a show on Australian radio station 2Day FM.
Believing the call was from the Queen, she transferred the telephone call to a colleague who then gave a detailed update on the duchess's condition to the hoaxers.
Mrs Saldanha was found hanged following the incident. A coroner concluded in September this year that she took her own life.
Prince William's note, written on New Year's Day 2013, said she was a "great nurse".
"It is unbelievably sad and we both extend to and your family our deepest condolences," he wrote.
"We were both very shocked to hear about Jacintha and have been thinking about her a lot recently. Many of the nurses spoke highly of her and I'm sure you know how great a nurse she was.
"Jacintha and her colleagues looked after us extremely well and I am just so sorry that someone who cared for others so much found themselves in such a desperate situation."
Mr Barboza, 50, spoke of his continuing anger at the DJs for fooling his wife and the hospital staff.
"I am just really angry; why did they do that? Just a matter of three or four seconds changed our whole life. They were making some kind of mockery saying 'OK, we fooled them'.
"I can't forgive the people who broadcast that."