Nick Parker trial: Jury retires in Sun reporter case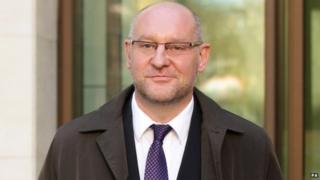 A jury in the trial of a senior Sun reporter accused of accessing texts on a MP's stolen phone has retired to consider its verdicts.
Nick Parker is accused of accessing a phone which belonged to Labour MP Siobhain McDonagh.
He is also accused of helping a prison officer and an ex-Surrey police officer to commit misconduct in a public office.
Mr Parker, 53, of Twickenham, south-west London, denies all the charges.
He is facing three counts of aiding and abetting misconduct in public office, handling stolen goods, and securing unauthorised access to computer material in relation to the phone.
Mr Parker allegedly trawled through Ms McDonagh's private texts, some of which referred to David and Ed Miliband's Labour leadership battle.
As part of his defence, the Sun chief foreign correspondent said his job as a journalist was to "seek out the truth and focus very squarely on the public interest", and protect sources "at all costs".
Michael Ankers, 30, of no fixed address, denies the theft of Ms McDonagh's BlackBerry mobile phone and handling stolen goods.
The trial is part of the Operation Elveden investigation into payments to public officials.
In a separate trial in March 2013, Alan Tierney, formerly of Surrey Police, pleaded guilty at the Old Bailey to two counts of misconduct in a public office.