Spending cuts blamed for increasing bail 'legal limbo' for suspects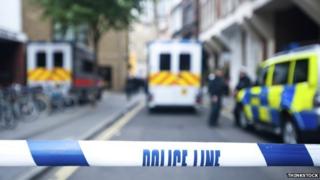 Deep spending cuts are delaying police inquiries and helping to cause an increase in people kept on bail for months, and sometimes years, warns the Association of Chief Police Officers.
Chris Eyre, Acpo's national lead on criminal justice, blamed the spending squeezes in the police, CPS and NHS.
Critics want new laws to limit the time people can spend on police bail.
The home secretary said a limit was needed but she had to balance suspects' rights and the interests of justice.
The police can put a suspect on bail if they do not have enough evidence to charge them, but think it is necessary to continue an investigation.
But critics say their powers are open to abuse and can leave thousands of people in legal limbo while they wait to hear if they are going to be charged.
Campaign launch
On Tuesday, the launch of a cross-party campaign - Justice Delayed, Justice Denied - will call for police bail to be limited to 28 days.
Home Secretary Theresa May is considering statutory time limits in England and Wales and an announcement could come before Christmas.
Figures obtained by the BBC earlier this year showed that more than 70,000 people were on bail in England, Wales and Northern Ireland.
Nearly 5,500 had been on bail for more than six months.
One person had been bailed by the Metropolitan Police for more than three-and-a-half years.
Mr Eyre, who is also chief constable of Nottinghamshire, told BBC Newsnight police bail was an important tool that allowed officers time to investigate possible offences without the suspect having to be held in detention.
He said the vast majority of people on bail in "run-of-the-mill cases" waited only weeks before decisions were taken.
But he admitted that long delays were inevitable in more complex investigations that might involve seeking evidence from computers.
'Huge pressure'
"We are now much more dependent on digital evidence and how that supports an inquiry," he said.
"That is very expensive and difficult to secure at a time when the police service is facing huge cuts."
He said cuts to the Crown Prosecution Service had deprived officers of specialist lawyers working in police stations alongside detectives.
And pressure on the NHS was also delaying certain types of police inquiries, he added.
In the more complex inquiries, the police are often dependent upon medical reports, Mr Eyre said.
"In a health service under pressure, providing police statements... is probably not the highest priority in some health trusts.
"But until we have got that evidence, we can't put it before the CPS for them to take a decision about whether or not to charge."
He said it could then take a "long time" for crown prosecutors to respond and their response might be: "Could you do further work?"
"So, yes, the cuts are contributing," he said.
"It's one feature of a system that is under a lot of pressure."
Mr Eyre also said there were inconsistencies in the way different forces used bail powers.
'Draconian conditions'
Angus McBride, one of the country's leading defence solicitors, said the police were also setting "draconian bail conditions" that disrupted people's lives.
"I've had a case recently where someone was alleged to have an illegal image on their computer," he said.
"They were bailed in order for that computer to be reviewed and a condition was applied that they couldn't use the internet at all.
"But these are people who have not been charged with offences, just arrested."
He added: "The difficulty is there's no right of review around this so [the police] can take as long as they wish without anyone knowing what they're doing."
Richard Garside, director of the Centre for Crime and Justice Studies think tank, said police should not blame cuts for the problems with bail.
"The police remain a very well resourced public service," he said.
"In the decade to 2010, police funding went up in real terms by 50%.
'Use appropriately'
"Police need to apply their powers on bail appropriately and that's regardless of whether they're facing particular cost measures."
In a statement released by the Home Office, Theresa May said she had been clear that a statutory limit was needed.
"I will consult shortly on these proposals to ensure that a new limit on the duration of pre-charge bail effectively balances the rights of suspects and the interests of justice," she said.
"In parallel, the College of Policing is developing evidence-based guidance to bring consistency, transparency and rigour to the way in which pre-charge bail is used in criminal investigations."
You can watch the report on this story in this Newsnight edition (via BBC iPlayer- UK only).