Local councils prepare to grit freezing winter roads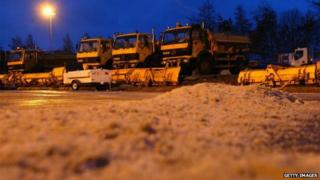 Local councils say they are ready for any severe cold weather that might be on its way, with nine out of 10 increasing or maintaining salt levels.
A Local Government Association (LGA) survey found 1.3 million tonnes of salt has been stored in England and Wales.
Half of local authorities were planning to share salt stocks with neighbouring councils if needed, and three-quarters are to use Twitter to update residents.
The LGA said there was "no room for complacency" in preparing for winter.
A quarter of councils will share gritting machinery and a fifth will pool staff.
The LGA said quad bikes would be used to grit pavements and pedestrianised town centres, and the majority of councils now used GPS technology to better plan gritting operations.
'Top priority'
The survey also found that 83% of councils planned to fill community grit bins for use by the public. Many authorities will make use of volunteers to join the community effort to keep pathways clear, as well as relying on park staff, street cleaners and farmers.
LGA transport spokesman Peter Box said: "Last winter may have been dominated by flooding and mild temperatures but there is no room for complacency when it comes to being prepared for a cold winter given how unpredictable the weather can be in this country.
"Local government funding has been cut by 40% and pressure on vital services continues to grow. However, preparing for winter remains a top priority and that is why councils have stockpiled 1.3 million tonnes of salt and are ready to deploy a fleet of state-of-the-art gritters."
RAC spokesman Pete Williams advised motorists to get ready in case winter hits in earnest.
"Motorists would do well to take a leaf out of the local authorities' book and spend some time this weekend or over the next week doing their own winter preparations on their cars otherwise they might find themselves having to deal with a breakdown rather than getting easily to their chosen destinations," he said.