Plebgate: 'Andrew Mitchell should not have lost job', says ex-PC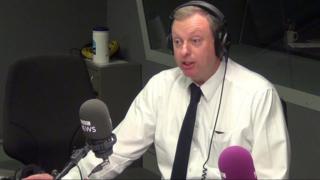 A police officer who witnessed the so-called "plebgate" row has said it was a "nonsense incident" that should not have cost Andrew Mitchell his job.
Mr Mitchell, who quit as chief whip after the incident at Downing Street's gates, lost a libel case on Thursday.
A High Court judge ruled the Tory MP probably had called officers "plebs".
Ian Richardson, said the fall-out from the row was "totally unnecessary". The prime minister said it was "never right to be abusive or rude" to police.
Asked about the ruling following a keynote speech in Staffordshire on immigration, David Cameron added: "We've had a court case now. That's how we do things in this country.
"The judge has made very clear his verdict and I think everyone should accept that verdict and move on."
The row erupted in September 2012 when Mr Mitchell was stopped from cycling through the gates to Downing Street by PC Toby Rowland, who said the politician had sworn at him and called him and his colleagues "plebs".
Mr Mitchell acknowledged he had used bad language but maintained he had not used the word pleb. He sued News Group Newspapers for the Sun newspaper's coverage of the incident.
However, giving his ruling at the libel case on Thursday, Mr Justice Mitting said Mr Mitchell's behaviour was "childish" and his version of events was inconsistent with CCTV footage of the row with PC Rowland.
Speaking to BBC Radio 4's Today programme, Mr Richardson - who has now retired after 30 years in the police - said the incident "shouldn't have cost Mr Mitchell his job" and said he did "feel sorry" for the MP.
"Mr Mitchell lost his sense of humour. Who hasn't lost their sense of humour at work?" he told the programme.
Mr Richardson, who was the most senior officer on duty in Downing Street on the night of the row, said the incident "certainly shouldn't" have cost the jobs of the officers who acted as whistle-blowers.
Former police officers Keith Wallis - who was also jailed for falsely claiming to have witnessed the row - and James Glanville were sacked for gross misconduct in February.
Ex-PCs Gillian Weatherley and Susan Johnson were also both sacked for gross misconduct over press leaks earlier this year.
'Absurdly expensive'
He said he had written to his commander in the days following the confrontation, setting out what had happened to put the matter "into some kind of reasonable perspective".
Mr Richardson also accused the Police Federation of "jumping on the bandwagon" when it became involved in the row.
The organisation, which represents rank and file officers, had used the incident as a "hook to hang their grievances on", he said.
"It could have been said that it is a minor incident that has been leaked to the newspapers and let's all move on," he said.
"But of course we didn't move on and we ended up all at the High Court last week and this week. It's a great shame and at what cost to so many people?"
He said there was a need for "serious reform" in the Police Federation, which needed to "more clearly represent their members".
Former Conservative minister, Neil Hamilton - who lost his own libel case against Mohammed al Fayed - said he was not surprised Mr Mitchell was facing a large legal bill.
Mr Mitchell, who may face total costs of about £2 million, has been ordered to pay interim costs of £300,000.
"Nobody goes into a case like that with his eyes closed and everybody knows that libel cases are absurdly expensive relative to the damages which anybody is likely to be awarded.
"The only winners in these cases, on both sides, are of course the lawyers," he told the programme.