Seven mental health patients died waiting for beds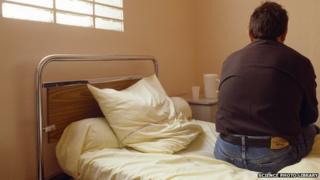 Seven mental health patients have killed themselves in England since 2012 after being told there were no hospital beds for them, the BBC has learned.
An investigation of coroners' reports and NHS trust papers with the journal Community Care found another patient denied a bed later killed his mother.
It comes as mental health beds are being cut in England - figures show more than 2100 have gone since 2011.
The NHS England said spending on mental health was increasing in real terms.
The investigation by BBC News and Community Care has also revealed an email that a chief executive of a mental health trust wrote to NHS England in frustration this summer after one of her senior officials came to tell her that: "Yet again there were no mental health beds in London in either the NHS or private sector."
Wendy Wallace, head of Camden and Islington NHS Foundation Trust, bemoaned NHS England's lack of interest in the problem. She wrote: "I could not envisage a situation where all the acute beds in London were full and there was not even an investigation into the situation nor a plan of action."
The investigation established that since 2012 seven people across England have taken their own lives having been told no beds were available. They were:
Pauline Binch, 64, from Nottingham
Stephanie Daniels, 32, from Manchester
Michael Knight, 20, from Norfolk
Mandy Peck, 39, from Essex
Anthony Quigley, 53, London
Terence Mullin, 53, from Liverpool
An unnamed man from Sheffield
In addition, Peter Holboll from London admitted the manslaughter of his mother, Tamara, having been told no beds were available.
A ninth person, Amanda Vickers, 47, from Cumbria, died after being denied a bed in a crisis house, a facility used to treat patients outside hospitals.
---
Case study
Pauline Binch, from Nottingham, started to develop mental health problems in 2010. The 64-year-old took an overdose in June, July, August and September 2013.
Following the fourth attempt to take her life, on 24 September her psychiatrist said that an inpatient admission was required and a request was sent to a bed manager.
No bed was available between 24 and 29 September. On 30 September a bed did become available but the trust could not contact Pauline and that evening the bed was given to another patient. A bed was not found on 1, 2 or 3 October.
At 20:45 BST on 3 October, Pauline's body was discovered at her home.
The investigation into her death concluded: "Bed managers were aware of the severity of risk in PB's case but (with the exception of several hours on 30 Sept 2013) could not find a bed to admit her to." Her husband John told the BBC "she'd still be alive today if they'd found her a bed".
---
Last year the BBC revealed that 1,711 beds had been closed between April 2011 and August 2013.
New figures, revealed through freedom of information requests from 52 of England's 58 mental health trusts, show that since last August a further 468 beds have been cut.
That means that since April 2011, when there were 18,924 beds available, a total of 2,179 beds have been cut.
Other data from the trusts show that the wards that remain are over-occupied.
Adult acute admission wards are running at an average monthly occupancy level of 101% for the past two years.
The Royal College of Psychiatrists says the occupancy level should be 85%.
It is possible for trusts to exceed 100% as they fill beds temporarily freed-up when patients are allowed out for a short time although filling those beds runs the risk of no bed being available if the patient on leave has a relapse.
Ms Wallace said: "If you need admission to a mental health bed, your need is very high.
"Unless we get some attention, unless we get some understanding of what's happening in the system, and some resources to be able to deal with it, it won't improve."
Flagship policy
Much of the anger within the mental health system is directed towards NHS England which is accused by many of failing to understand or prioritise mental health.
Last year, they suggested to clinical commissioning groups, who buy mental health services, that they cut budgets to mental health trusts by a greater percentage than for physical health hospitals.
The Department of Health and the care and support minister Norman Lamb MP are putting much hope for a change in mental health provision on the Mental Health Crisis Care Concordat - their flagship policy for improving care.
But just a month before a deadline for areas to sign up to the agreement, just one third of areas have done so while just 6% have announced plans on how they will put it into practice.
Mr Lamb said: "We've made huge progress but we want to go further to make sure everyone gets the care they need and to ensure that mental health gets treated fairly in the allocation of resources.
"We are going further than ever before to put mental health on a par with physical health."
NHS England's director for people with long-term conditions Dr Martin McShane said: "Spending on mental health is now going up in real terms after years when services were under real pressure.
"One result [of the increase in spending] is big falls in the number of people in mental health crisis ending up in police cells.
"As we expand services patients are also able use NHS-funded beds in the independent sector.
"But the-long term solution is not just about beds, or buildings, as highlighted in Sir Stephen Bubb's recent report, but about finding the right solution for each patient."