Queen receives equestrian sport award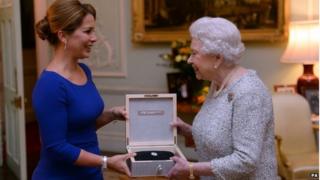 The Queen has received a lifetime achievement award which acknowledges her devotion to equestrian sport.
She is the first person to have been presented with the accolade from equestrian sport's governing body - the Federation Equestre Internationale.
Princess Haya Bint Al Hussein of Jordan presented a gold and diamond brooch of nine interlinked horseshoes to her at Buckingham Palace.
It recognises the Queen's support of equestrian sport throughout her reign.
The princess said: "Her Majesty Queen Elizabeth is a life-long lover of horses who has inspired millions around the world.
"She is a true horsewoman, who still rides whenever state business allows, and her knowledge of breeding and bloodlines is incredible.
"The bond between the Queen and horses is truly extraordinary and I can't think of anyone more fitting to receive this very special Federation Equestre Internationale award in the Year of the Horse."
The Queen had her first riding lesson at the age of three and eight decades on at the age of 88, she still rides without a riding hat.
Thoroughbred horses bred by the Queen have won more than 1,600 races, including four of the five flat racing classics - the Epsom Derby continues to elude her.
British Equestrian Federation chairman Keith Taylor said: "Horses have played such a huge part in the life of the Queen, and it is a family passion shared particularly with her husband and the two world-class champions in her daughter and granddaughter."