Dairy industry in 'desperate state', MPs told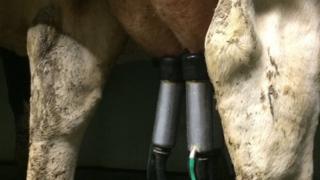 The dairy sector is in a desperate state, MPs have been told, with farmers being paid less for milk than the cost of production.
Four hundred milk producers have quit the business so far this year, compared with 200 over the whole of last year.
Farmers now get paid around 27p for a litre of milk, down from around 33p per litre in the spring. The average cost of production is just over 30p.
A further price cut announced by milk-buyer Arla has added to farmers' woes.
Giving evidence to the Environment, Food and Rural Affairs Committee (Efra), the chairman of Farmers For Action, David Handley, said: "The situation is getting so serious that in the last nine weeks we've passed three individual dairy producers on to the Samaritans because they were in such a desperate state.
"The full impact isn't yet being seen."
George Dunn, chief executive of the Tenant Farmers Association, commented: "This is a horrendous time... We are losing family farming. We have valleys which have had 20 dairy farmers where we have none any more."
The committee heard that the supply chain needed to be subject to greater scrutiny. Mr Handley said that the money between the processor and retailer needed to be tracked.
"We need to have some honesty and transparency. There is far too much smoke and mirrors. Unless we get proof that global markets are affecting the domestic price then we will continue to blockade," he said.
When asked whether this would mean the price of a pint in the supermarket going up, Mr Dunn replied: "Not necessarily. The question we have been asking is, 'Where does the money go?' We might not need to have a higher price, just that we have a fairer share of the market."
Rob Harrison, chairman of the National Farmers' Union Dairy Board said: "We need to have a transparent trading relationship that means farmers are treated equitably and fairly."
A call for better labelling was also made, so consumers could make an informed choice about where their milk products came from, to allow people to buy British.
The big milk-buyers - such as Arla, Dairy Crest, Muller and First Milk - mainly blame the cuts on global commodity prices: prices are falling because of oversupply. The Russian import ban has also had an impact, as have supermarket price wars.
Mr Handley disputed claims that the price cuts were down to global markets, saying: "We find it very suspicious when we are being told that it is oversupply when 85% of our milk never leaves these shores."