Indian Ocean tsunami: Share your stories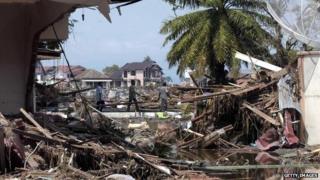 Where were you on 26 December 2004, the day a 9.1-magnitude earthquake off the coast of Banda Aceh, Indonesia triggered a deadly tsunami that killed more than 230,000 people?
Ten years on from the disaster, the BBC is asking for your memories of what happened that day, and during the aftermath.
Indonesia, Sri Lanka, Thailand, India, Maldives, Malaysia, Burma, Bangladesh, Somalia, Kenya, Tanzania, Seychelles were all among the countries those affected by the disaster.
We want to hear about your experiences and want you to share any pictures and videos you took.
How did it affect you? Will you be doing anything to mark the anniversary?
Thank you for your contributions, you can read some of the stories you told us here: Tsunami stories: Your experiences.
---
Here are the ways you can contact us:
You can contact us directly on Twitter by tweeting your memories to @BBC_HaveYourSay.
You can text us beginning Tsunami to 61124 or if you are outside of the UK +44 7624 800 100.
Send your pictures and videos to yourpics@bbc.co.uk or text them to 61124 (UK) or +44 7624 800 100 (International). If you have a large file you can upload here.
Read our terms and conditions.