'Plebgate' libel trial: Andrew Mitchell was 'unpleasant'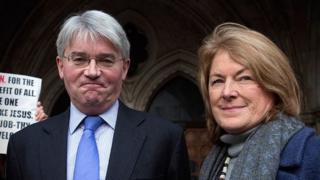 A police officer who accompanied Andrew Mitchell on two foreign trips says the former cabinet minister was "unpleasant until he got what he wanted".
Insp Duncan Johnston, who travelled with the then international development secretary in 2011, told the High Court he would "erupt" but later be charming.
The MP is suing News Group Newspapers over claims he called PC Toby Rowland a "pleb" in a row in September 2012.
Mr Mitchell denies using the word and swearing at a police officer.
In written evidence, two former Conservative whips stated that Mr Mitchell had been unable to recall the exact words he had used in the days and weeks after the event.
Sir John Randall, MP for Uxbridge, said he found an account of the incident by Mr Mitchell in the Sunday Times in December 2012 "rather extraordinary" as he said Mr Mitchell had told him "just five days after the incident that he could not recall what he had said".
Mr Mitchell is himself being sued by PC Rowland over the incident.
The altercation, as Mr Mitchell was leaving Downing Street on 19 September 2012, led to a front-page story in the Sun and a month later to Mr Mitchell's resignation from the government.
Inspector Johnston said that, when he met Mr Mitchell, he ignored his outstretched hand and said: "You must be the hired muscle."
The inspector, who provided protection on visits to Kenya, Somalia and Tunisia, claimed he later told Mr Mitchell that it was not possible to visit Libya as it was not in his mandate and would breach international law.
According to Mr Johnston, the MP replied: "That's a bit above your pay grade, Mr Plod."
'Temper tantrums'
Mr Johnston added: "The way Mr Mitchell behaved led me to believe that Mr Mitchell thought that if he put enough pressure on us, we would do what we were told.
"He was prone to temper tantrums and, on the second trip, when he was yelling at anyone involved in arranging the visit, I felt he was verging on out of control.
"He was unpleasant until he got what he wanted. He would erupt but then minutes later he would be charming."
Mr Johnston, a police officer for 29 years who has worked in specialist protection for 15 of them, was giving evidence for News Group Newspapers and Pc Toby Rowland.
The officer said he had no personal grievance against Mr Mitchell, who wrote him a letter of thanks after the trip.
He said: "I can honestly say that I have never actually met anyone who is quite like Andrew Mitchell."
The court also heard from Lee Bryer, a former security officer at the Palace of Westminster.
Mr Bryer said that he had to call out when Mr Mitchell cycled very fast through the closing exit barrier in November 2005, at a time of heightened security after the London bombings.
When asked to identify himself and explain why he had not stopped, Mr Mitchell replied: "I am a member of parliament and I am too important to stop for you", according to Mr Bryer.
'Caricature'
Mr Mitchell's counsel, James Price QC, said that his client had no recollection of the exchange, which he branded a "caricature".
Conservative MPs and former whips Michael Fabricant and Sir John Randall gave written evidence to the court.
Mr Fabricant said that in October 2012 he asked Mr Mitchell what he had said to the officers in Downing Street and it was clear he was unable to recall the exact words he had used - although he was adamant he had not used the term "plebs".
Sir John, who was deputy chief whip at the time, said that when he spoke to Mr Mitchell after the initial story appeared, Mr Mitchell said he could not recall what he had said to Pc Rowland.
Mr Randall said: "In December 2012, I read a lengthy article published in The Sunday Times that was written by Mr Mitchell describing verbatim the exchange he had with the officer on the night of September 19 2012.
"I recall that I found the article, and in particular Mr Mitchell's account, rather extraordinary given Mr Mitchell's comments to me just five days after the incident that he could not recall what he had said."
The hearing was adjourned until Wednesday - when counsel will make closing submissions.