'Plebgate' libel trial: PC 'embarrassed' by MP behaviour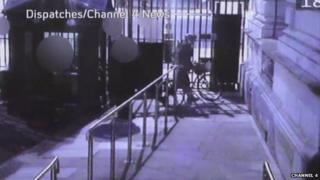 A police officer has told the High Court how he was embarrassed by the "childish" and "ridiculous" behaviour of MP Andrew Mitchell the night before the so-called "plebgate" row broke out.
PC Bonds was at the gates of Downing Street on 18 September 2012 when Mr Mitchell tried to cycle through.
A libel trial at London's High Court is hearing rival claims from ex-chief whip Mr Mitchell and PC Toby Rowland.
The officer says the MP called officers "plebs" in a row on 19 September.
'Disbelief'
The court heard Mr Bonds explain how Mr Mitchell "raised his voice" at officers when he was told to leave via a side gate with his bicycle.
According to the officer, Mr Mitchell twice shouted: "I'm the government chief whip. I want to leave through these gates".
Mr Bonds said: "I stood and watched in disbelief at how childish a grown man in his position was being, and found it embarrassing.
"I therefore spoke to my colleagues and told them to just open the gates as it was ridiculous to argue over a gate.
"I found Mr Mitchell's tone overbearing, but he did not swear at us. He then left."
Mr Bonds said that in his nine years with the Metropolitan Police's Diplomatic Protection Group, the incident with Mr Mitchell was the only one of its kind.
He added: "Most people are quite polite."
PC Alex Jamieson, who was also on duty that night, told the court Mr Mitchell "spoke over" him when he tried to explain safety policy for cyclists.
He said: "Every time I tried to explain, he spoke over me.
"Most people follow the policy when it is pointed out to them."
PC Jamie Dove was the officer that opened the pedestrian gate for the MP that evening, he said that Mr Mitchell was "determined, but not angry" and that he demanded the gate was opened "as an order not a request".
Mr Mitchell is suing News Group Newspapers because of the Sun's coverage of an encounter with officers the following night on 19 September 2012.
At the same time, Mr Rowland is suing Mr Mitchell for comments which the former minister made in the media and at a press conference a year later.
At the end of the two-week hearing, the judge will rule on the preliminary issues of the meaning of the words complained of and whether they were substantially true.
The hearing was adjourned until Monday.