Andy Coulson freed from prison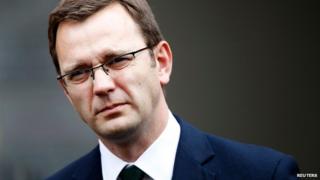 Former News of the World editor Andy Coulson has been released from prison after serving nearly five months in jail for conspiracy to hack phones.
Coulson, 46, who also worked as director of communications for Prime Minister David Cameron, was sentenced to 18 months in July.
He was one of four ex-journalists at the tabloid sentenced at the time.
Coulson left Suffolk's Hollesley Bay Prison in a car on Friday morning and said nothing to waiting reporters.
He had previously been held at HMP Belmarsh in south-east London. It was reported in September that he had been moved to the Hollesley Bay open prison to serve the rest of his term.
The Ministry of Justice declined to comment on Coulson's case ahead of his release, but said inmates could leave prison under home detention arrangements before they had served half of their term.
A spokesman said: "Public protection is our first priority. Only prisoners who pass a strict risk assessment can be released on home detention curfew (HDC).
"Offenders on HDC are subject to strict licence conditions and can be recalled to prison if they breach them."
It is not known whether Coulson will have to wear an electronic tag but normally, released prisoners are expected to wear a tag until half of their sentence has passed.
The News of the World was closed by its parent company, News International, in July 2011 after the 2002 hacking of Milly Dowler's voicemails emerged.
Coulson was jailed in July this year following an eight-month trial at the Old Bailey. He had denied all charges against him, but was found guilty of plotting to intercept voicemails between 2000 and 2006.
Five defendants - including former News International chief Rebekah Brooks - were cleared of all charges.