UK grants nearly quarter of all new citizenships in EU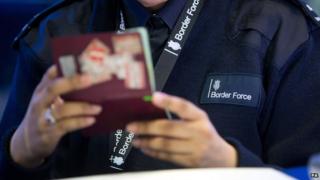 Britain granted nearly a quarter of all new citizenships in the EU in 2012 - more than any other member state.
A total of 193,900 migrants were issued UK passports over that year, according to records from the European Union's statistical office Eurostat.
The highest percentage of those went to people from India, followed by Pakistan, Nigeria and the Philippines.
The Home Office said acquiring citizenship had become more difficult and that immigration was being reduced.
Eurostat said three quarters of the 818,000 new citizenships in the EU were granted in six countries - with Britain granting 23.7% of them.
Germany granted 14%, followed by France on 11.7%, Spain on 11.5%, Italy on 8% and Sweden on 6.1%.
Dr Carlos Vargas-Silva, acting director of the Migration Observatory at Oxford University, said the figures could be explained by Britain's Commonwealth past.
He said: "This is about Britain's colonial history as well as about current immigration and settlement policies - the countries that are providing the largest number of new British citizens are Commonwealth countries, particularly India and Pakistan.
"Many people born in these countries have significant family and community networks in the UK as a result of the long relationships between Commonwealth states and the UK. This means the UK is more likely to see immigration from these countries than other EU member states."
'Number one destination'
A Home Office spokeswoman said: "British citizenship is a privilege, not a right and we expect those wishing to settle here to demonstrate they are ready and able to integrate into society.
"This government has made the acquisition of citizenship harder and all applicants are required to pass both the new, revised Life in the UK test and have the relevant English language speaking and listening qualification.
"The high volume of applications in 2012 is largely a result of the uncontrolled levels of immigration in the years before 2010. We are reducing and controlling immigration, building an immigration system that is fair to British citizens and legitimate migrants and tough on those who abuse the system or flout the law."
A total of 14.6% of the new passports were given to people from India, with 9.5% to those from Pakistan, 4.6% to those from Nigeria and 4.2% to people from the Philippines.
The average age of new EU citizens in 2012 was 31 and more than a third were under 25.
Sir Andrew Green, chairman of campaign group Migration Watch, said: ""Clearly, Britain remains the number one EU destination for migrants from outside the EU.
"It's imperative therefore that we continue to bear down on non-EU immigration while looking for ways to restrict the flow from the rest of the EU."