Unlawful detention: UK government 'can be sued', court rules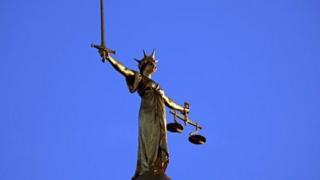 A Pakistani man can sue the UK government over claims he was unlawfully detained and tortured by British soldiers in Iraq, the High Court has ruled.
Yunus Rahmatullah was captured in 2004, then sent from British to US custody and held for 10 years without charge.
The UK knew he may face unlawful detention and torture, lawyers said.
The Ministry of Defence said it should not face UK courts as the alleged behaviour was also conducted by the US.
The MoD also said it should have either state immunity or that the courts do not have jurisdiction over the acts of a foreign state, the US in this case.
Sapna Malik - who represents Mr Rahmatullah - said: "It is now high time for the British government to abandon its attempts to evade judicial scrutiny of its conduct in operations involving the US in Iraq and Afghanistan."
---
Analysis
Steve Swann, BBC Home Affairs
This is a blow for the UK authorities, because the judge ruled that our courts have a constitutional duty to investigate claims of wrongdoing even if that might damage relationships with foreign states.
He argued it is necessary to assess whether American personnel acted illegally in order to establish whether any British individuals broke the law. That will not go down well in Whitehall.
Lawyers for the Ministry of Defence and Foreign Office had said the US authorities would never co-operate with such an investigation.
It follows last month's judgment in the Belhaj case, where the UK is accused of colluding with the US in the rendition of a man to Libya. In that instance, the UK courts cleared the way for Mr Belhaj to sue the British state.
Now there are two cases which will be expensive, time consuming and potentially highly embarrassing heading to court.
---
Mr Rahmatullah was released from custody on 17 June 2014.
He alleges that while in detention he was subjected to torture and other serious mistreatment including severe assaults, being beaten on the soles of his feet with rubber piping and being immersed upside down into tanks of water.
Wednesday's judgement also concerned claims made by three Iraqi men of abuse by British soldiers at various detention facilities in Iraq prior to handover to US forces.
In all the cases, the MoD claimed the English courts should have been legally prevented from dealing with the claims.
But this judgment means the claims brought by the four men against the British government for its role in their treatment while in US custody in Iraq and Afghanistan can be examined by the courts.
The ruling, by High Court judge Mr Justice Leggat, follows a Court of Appeal judgment in October in which a Libyan man was told he could sue the British state, for allegedly being complicit in his rendition to Libya.
Abdul Hakim Belhaj claims he was tortured by agents of Colonel Gaddafi.
---
How it happened
January 2004: Yunus Rahmatullah arrives in Iraq from Pakistan and rents an apartment in Baghdad
February 2004: Mr Rahmatullah is captured by British forces in Iraq
June 2004: Mr Rahmatullah is transferred to the US military airbase at Bagram in Afghanistan
June 2010: A US review board decides that his detention is "not necessary"
June 2011: The UK High Court dismisses Mr Rahmatullah's lawyers' application for habeas corpus - ie to examine the legality of his detention in court
November 2011: Mr Rahmatullah wins an appeal against the High Court judgement
October 2012: The Supreme Court upholds that decision, but quashes Mr Rahmatullah's appeal against a ruling that the UK authorities had done what they could to have him returned to the UK
May 2014: He is transferred to the custody of the Pakistani government
June 2014: Mr Rahmatullah is released from custody