Clodagh Hartley defence: Leaks 'lifeblood' of journalism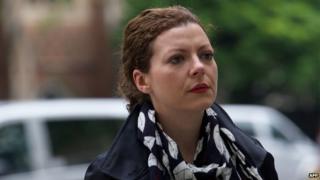 Leaks are the "lifeblood" of political reporting, the trial of a Sun journalist accused of paying a press officer for information has heard.
Media commentator Roy Greenslade said without leaks: "There would be no political journalism."
He was called by the defence of the paper's former Whitehall editor Clodagh Hartley at the Old Bailey in London.
Ms Hartley, 40, of Brockley, south-east London, denies conspiracy to commit misconduct in public office.
Mr Greenslade, a professor of journalism who has worked for the Sun, Daily Star and Daily Mirror said: "There was once a case when political reporting was sitting in the Commons and taking notes.
"The way now is to cultivate sources. The cultivation of sources is really the job of the journalists."
'Get a leg up'
He told the jury: "Obviously a source wants to give you information or can be encouraged to give you information in return for something else. It's a contract.
"Some people will do it because they want to make mischief, for a lunch and a drink, for political advantage. Some will do it in order to receive a favour - perhaps they can get a leg up somewhere - and some will do it in return for money."
The veteran journalist told the jury the government used an array of methods to control information.
He cited information being released under embargo, press releases and granting interviews to selected journalists.
The job of a reporter was to "get to the truth", he said, and to determine what was "spin".
By way of an example, the court heard about a government adviser who sent an email to colleagues suggesting 9/11 would be "a very good day to get anything out we would want to bury".
During her defence, Ms Hartley told the jury there was a "massive public interest" in her paper carrying a story about the 2010 Budget, before it was subjected to "spin".
She is on trial with 45-year-old Marta Buckarewicz, the girlfriend of a press officer from Her Majesty's Revenue and Customs.
The trial continues.