Charles Napier guilty of historical child abuse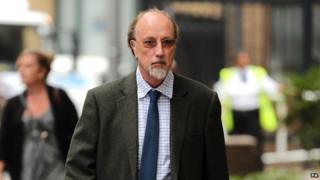 Charles Napier, a 67-year-old former teacher, has admitted sexually abusing 21 boys between 1967 and 1972.
Napier, of Newland in Sherborne, Dorset, pleaded guilty at Southwark Crown Court in London.
He admitted 28 indecent assault charges and one indecency offence on a child. All his victims were under 16.
Napier, the half brother of Conservative MP John Whittingdale, was remanded in custody. He will be sentenced on 23 December.
The court heard that one boy was indecently assaulted on eight separate occasions between 1969 and 1972.
Napier forced another boy to commit a sex act on him.
He faces two further indecent assault charges against two other boys, for which he has yet to enter to a plea.
Napier was cleared of one other charge in October due to lack of evidence.
Police arrested him in 2013 as part of Operation Cayacos, one of the strands of Scotland Yard's wider investigation into historical child abuse.
That investigation - Operation Fairbank - was launched in 2012 after Labour MP Tom Watson wrote to Scotland Yard about allegations of a paedophile ring linked to Westminster.
Adjourning until sentencing, Judge Nicholas Loraine-Smith said: "It will enable those victims who wish to be here to be alerted and they can be here."
Napier was remanded in custody.