Police disciplinary hearings to be public under May plan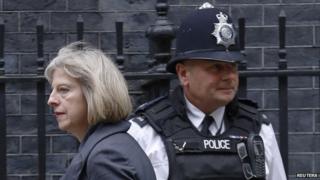 Home Secretary Theresa May has announced plans for police disciplinary hearings to be held in public.
She also wants to see legal independent experts chairing the panels which decide whether officers who commit misconduct should face sanctions.
Protections for police whistleblowers against disciplinary action will also be strengthened under the proposals.
Mrs May said the new system - set for public consultation - would be "more robust, independent and transparent".
As part of the plans, panels will have the power to rule that officers whose contracts are terminated for disciplinary reasons should not qualify for a pay-off.
Independent and transparent
Hearings may still be held in private in certain cases - such as where national security is at risk, where an ongoing court case or criminal investigation could be compromised or where there is a concern over the health and welfare of the police officer or another witness at the hearing.
Mrs May said: "The integrity of the men and women who work in the police service of England and Wales is critical to public trust in policing.
"I want to ensure that the systems and processes that deal with misconduct by police officers are robust, independent and transparent to the public."
The proposals follow a report by Maj Gen Clive "Chip" Chapman to review the police disciplinary system, commissioned by Mrs May in July.
Labour's shadow policing minister Jack Dromey said he welcomed the announcement but called on Mrs May to abolish the Independent Police Complaints Commission.
"It is high time that rather than merely scolding the police, the Home Secretary tackled the problem that she continues to duck.
"The failed Independent Police Complaints Commission must be replaced as part of a tougher, more robust system of standards," he said.