Watchdog ranks GP surgeries by risk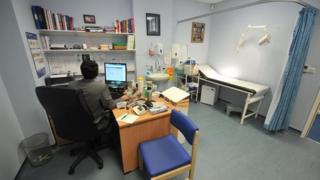 Health watchdog the Care Quality Commission (CQC) has ranked almost every GP surgery in England in terms of risk of providing poor care.
The majority are of low concern, but 11% have been rated in the highest risk band by CQC.
Many of the elevated-risk practices had possible issues with appointments, mental health plans, and cervical cancer screening.
The CQC register will help target inspections.
The watchdog said the register did not necessarily indicate poor GP surgery performance.
"It is important to remember that the data is not a judgement, as it is only when we inspect we can determine if a practice provides safe, high-quality and compassionate care," said CQC chief inspector of general practice Prof Steve Field.
"The data is a further tool that will help us to decide where to inspect and when," he said.
Risk factors
The health watchdog ranked 7,276 practices out of the total 7,661 in England, and placed 864 practices in the "highest concern" category.
In about 3% of high-concern practices, patients stated they had difficulties in getting an appointment to see a GP or nurse.
However, surgeries that were not at high risk also saw patient dissatisfaction with appointments. In about one sixth of practices, patients had a limited ability to get appointments and services, the CQC said.
Potential issues in elevated-risk practices also included the provision of care plans for people with schizophrenia, bipolar disorder or other psychoses, and potentially low numbers of women aged 25 to 64 who had received a cervical screening test in the past five years.
---
---
The regulator used 38 different indicators to calculate the level of risk. Practices were graded in six bands, with Band One being the highest concern, and Band Six the least risky.
Measures including patient experience, care and treatment were taken into account, based on "sources including surveys and official statistics", the CQC said.
London 'riskier'
BBC health correspondent Dominic Hughes said that there was a high degree of regional variation in the data, with more than one in four practices in London falling into the two riskiest categories.
The North East had the lowest proportion of practices where the risk was judged to be high, and the highest proportion where risk was low (69%), he added.
Between April and September 2014 CQC inspected 336 GP surgeries.
At the start of October a new inspection regime came into force, and CQC hopes to have inspected all surgeries by March 2016.
---
The CQC look at whether surgeries are safe, effective, caring, responsive, and well-led.
Risk indicators include:
•Unnecessary A&E admissions
•High use of antibiotics
•Coronary heart disease incidence
•Emergency cancer admissions
•Not hitting flu vaccination targets
•How sleeping pills are prescribed
•Dementia diagnosis rates
•Whether care plans for psychoses are in place
•Cervical screening test numbers
•Diabetes care
•Patients being overheard in reception
•Ability to get an appointment
---