Does Church of England need to reform to stay relevant?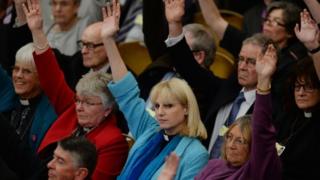 Inside the imposing circular assembly hall at Church House, General Synod made history at 2.52pm on 17 November 2014.
For the first time since the Church of England was established in 1534, it amended canon law to allow women to become bishops.
It was a highly symbolic moment.
But was it the next move towards creating a more egalitarian Church of England with broader appeal for the future, or a step that risks alienating some traditionalists without bringing in a younger generation, many of whom see the church as irrelevant?
The Archbishop of Canterbury, Justin Welby, who succeeded in getting agreement for women bishops, has made reconciliation between different groups within the church the priority of his leadership.
On Monday, he predicted that in a decade or so, half of the Church of England's bishops might be women.
"Ten to 15 years would be reasonable. It depends on when people retire." he said.
"The aim is that you end up with a big pool of people where gender is irrelevant.
"We rejoice that we have this opportunity to appoint these remarkable women. There are some very wonderful ones."
For the women within the church who fought hard for this moment, it is a major step towards gender equality and ensuring the Church remains relevant.
Key to credibility
"It had to happen in order for the church to retain any credibility," said Canon Rosie Harper.
"In the past, the country saw the church as leading the moral agenda, but with the two issues of sexism and homophobia unresolved, people were beginning to believe that the church was less moral than the rest of the population.
"Allowing women to become bishops addresses part of the problem, but changing the internal church culture so that equality and justice are fully embedded will take more time."
Yet the church is likely to face continuing friction, with some opponents of women bishops mistrustful of the guarantees that have been given to ensure they have access to a male bishop when needed.
One more conservative member of Synod, who didn't want his name published, told the BBC: "This is a moment which demands enormous trust. It's going to be difficult.
"How many people can live in a context of being left out and marginalized all the time? We need to be encouraged and set free to flourish.
"They need to keep their word for that to work - but they don't have a good track record on that."
Healing wounds
Some, like the Rt Rev Nick Baines, Bishop of Leeds, are optimistic that the wounds can be healed.
"Once you've made a decision, and people are clear about where you are, you're able to move on. Some rifts heal themselves because you find a different way of relating."
For long-time religious commentator Andrew Brown of the Guardian, the first women bishops will be reformers by their very nature.
"The first crop of candidates has spent far more time doing ordinary jobs than the kind of men who get fast tracked.
"Simply because they were prevented from the promotion that some of them would have had ten years ago, had they been men, they are going to come to the job with a very finely developed knowledge of a lot of the things that are wrong with the Church of England today.
"So they will push a reform agenda irrespective of their theological perspective. I think they will have a pretty shrewd idea of what might make people come to church simply because so many of them have spent so long in parishes."
---
First female bishops - the contenders:
2/1 fav Jane Hedges (Dean of Norwich)
4/1 Vivienne Faull (Dean of York Minster); 4/1 June Osborne (Dean of Salisbury)
5/1 Rose Hudson-Wilkin (Chaplain to Speaker of House of Commons)
8/1 Catherine Ogle (Dean of Birmingham)
9/1 Diana Gwilliams (Dean of Guildford); 9/1 Frances Ward (Dean of St Edmundsbury)
10/1 Lucy Winkett (Rector of St James's Church, Piccadilly); 10/1 Miranda Threlfall-Holmes (Vicar of Belmont-Pittington)
Also tipped:
Philippa Boardman (Canon treasurer of St Paul's Cathedral)
Rachel Treweek (Archdeacon of Hackney, London)
Odds: William Hill
---
Same-sex controversy
The other battleground remains same-sex marriage.
Church law continues to ban the marriage of same-sex couples, while a majority of church-going Anglicans remain opposed to gay marriage.
However, polling by the Westminster Faith Debates finds that the majority of Anglicans are now in favour.
And at least two members of the clergy have taken the opportunity to marry their same-sex partner, while two in five (39%) of the clergy disagree with the Church's stance.
And some within the clergy openly back change, such as the Rt Rev Alan Wilson, Bishop of Buckingham and author of 'More Perfect Union? Understanding Same Sex Christian Marriage.'
The church finds itself - as an institution - having to grapple with the massive social and technological changes of the 21st century, and a more crowded marketplace for spiritual meaning.
It must fight its corner against other faiths, as well as everything from atheism to new age spirituality, or from mindfulness to plain indifference.
How much it represents the England of today is another question.
Socially conservative
One recent survey of the clergy showed that many held more conservative social views than average, and at the same time held more traditionally left-leaning views on the economy.
Nearly 60% of Church of England clergy are either opposed to abortion or would like to see a reduction in the 24 week time limit, according to the poll by YouGov for the Westminster Faith Debates on the future of the Church of England.
On welfare and immigration, it appears that the clergy remain deeply committed to a generous welfare state, and are three times as likely as the general population to think the welfare budget is too low - a view held by 44% of the clergy, but just 15% of ordinary people.
Similarly, only 29% of the clergy polled think the current welfare system creates a culture of dependency, compared with some 66% of Anglicans.
They are also more positive in their attitudes towards immigration and multi-culturalism.
Professor Linda Woodhead from Lancaster University, who is behind the research, says that 70% of the clergy believe that the laws on assisted dying should not be changed - unlike their flock and the population as a whole, with 70% favouring the opposite: a relaxation of the law.
Abuse legacy
And yet, a million people still attend its many churches across the country every week, a decline of just one percentage point from last year, which suggests that the sharp decline of previous years has levelled out.
But the church must still work out how it can continue to renew its congregation as current churchgoers age.
It must also deal with the legacy of child abuse by its clerics, and the continuing hurt of those who have been abused.
The Archbishop of Canterbury recently told journalists he had broken down in tears at learning of the horror of child abuse within the Church of England.
Both he and the Archbishop of York, John Sentamu, have looked inwards, and concluded that the Church of England had "failed terribly" over the issue.
Both insist the Church is now taking the issue as seriously as possible - including trawling through decades of clergy personnel files searching for evidence of abuse which had gone unnoticed.
Unification drive
Archbishop Welby, a former oil executive, has been looking ahead to see how the church can become more unified, as well as outwards, to how the church can help contribute to the 'common good'.
That includes work contributing towards a more ethical City and business culture, and a more financially literate society - including the financial education of children, so they are less likely to get into debt as adults.
He has also spent time visiting the rest of the worldwide Anglican communion of 80 million souls, and sought to use interfaith initiatives and church influence in areas of conflict around the globe.
However, not all believe that the church needs to become more relevant to appeal.
Dr Serenhedd James, Hon Research Fellow of St Stephen's House, Oxford, believes the installation of women bishops might make less difference to the future than some hope.
Divine society
He says that making the Church of England more "relevant to society" with the idea that this will make it more attractive to young people is "putting the cart before the horse."
He adds: "The Church of England too often acts as if it were some sort of social-justice platform - and there are plenty of those already, and they are generally better at it.
"It would be interesting to see what would happen if the Church of England reclaimed its identity as a divine society teaching numinous and eternal truths in a confusing and conflicted world. That would seem to be the point of it, after all."
Linda Woodhead, Professor of Sociology of Religion at Lancaster University, and organizer of the Westminster Faith Debates, is less optimistic.
"Whereas the Church is the past was able to be at the cutting edge of social reform - in relation to slavery, for example - since the 1970s it has found itself on the back foot.
"It has not been able to give any serious leadership in relation the tremendous moral advances we have seen in relation to the treatment of women, gay people, and children.
"Its inability to listen to the voices of the majority of Anglicans, or to act in a more prophetic way, has compounded the many other problems it faces.
"After all, the majority of Anglicans were in favour of the ordination of women several decades ago."