TTIP: Cameron pledges support for EU-US trade deal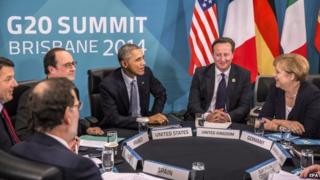 David Cameron has pledged to put "rocket boosters" behind plans for an EU-US free trade deal.
The UK prime minister said EU and US leaders had met and all agreed the Transatlantic Trade and Investment Partnership (TTIP) "is a deal we want".
Speaking at the G20 summit, he said arguments against TTIP were "weak" and fears over the NHS were "nonsense".
Many opponents are concerned about TTIP giving firms power to sue governments if they are hit by policy changes.
Len McCluskey, general secretary of the Unite union, has called for the NHS to be excluded from the deal.
The EU is currently analysing responses to a consultation on a controversial element of TTIP which would allow foreign investors to go to an international tribunal for compensation if a government breaks the rules in a way that harms the company's interests.
'No threat'
Mr Cameron said he "sensed an enthusiasm" from EU leaders and US President Barack Obama during a meeting in Brisbane earlier, and was now "hopeful of progress" on TTIP.
The UK prime minister said the deal could be supported by the "classic free trade argument for growth and jobs and investment".
"The opportunities for Britain of trading more with the United States of America are clear," he said.
Speaking about concerns over disputes between companies and countries, Mr Cameron said: "We've signed trade deal after trade deal and it's never been a problem in the past."
On the NHS, he said: "Some people argue in some way this could damage the NHS. I think that is nonsense. It's our National Health Service. It's in the public sector, it will stay in the public sector. That's not going to change. It will remain free at the point of use.
"There's no threat, I believe, from TTIP to the National Health Service and we should just knock that on the head as an empty threat."
Anti-TTIP protests were held last month in the UK, Germany, France, Italy and Spain.
At their annual conference in September, delegates from UK unions unanimously backed a motion opposing TTIP.
Many unions focused on the potential impact on the NHS, saying TTIP would allow private firms to sue the government if it chose to return privately run services to the public sector.
Unite general secretary Len McCluskey accused David Cameron of "riding roughshod" over objections and "trying to brush the threat of TTIP under the carpet".
He asked: "If it is not a threat then why doesn't David Cameron just make an explicit commitment to use his veto in Europe to get the NHS out TTIP?"
He drew comparisons with steps taken by the French government to exempt their film industry from the agreement.
Food safety fears
One aim of the negotiations is to reduce the costs to business of complying with regulations.
Critics say this could lead to lower standards of protection for workers, consumers and the environment, with food safety a particular concern for some.
But Mr Cameron said TTIP would give the EU and the US a joint interest in areas like food and environmental standards.
Also at the G20, Mr Cameron reiterated his warning of possible further sanctions against Russia over Ukraine.
He said Russia must stop sending troops into the country to support pro-Russian separatists - something the Kremlin denies.