Surgeons told to publish mortality rates or face penalties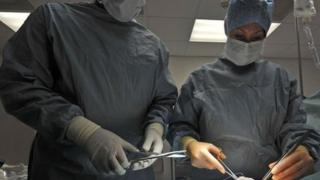 Surgeons who refuse to publish their mortality rates could face sanctions, NHS England's medical director says.
Performance data for about 5,000 surgeons in England is expected to be released online on Wednesday.
Sir Bruce Keogh said publishing rates improved safety and the NHS was looking at "penalties to force that".
Some surgeons have warned the move could lead to consultants refusing to take on difficult cases.
They argue the statistics do not take full account of the circumstances of each operation.
Inducements and penalties
Speaking to the Sunday Times, Sir Bruce acknowledged the publishing of mortality rates was not popular with everyone, but said the issue was "not going to go away."
He said: "We are looking now at a series of inducements, penalties to force that. On the personal level is the revalidation, there are also clinical excellence awards.
"If you want to progress with your clinical excellence award, if you have refused to allow your data to be published, then that will affect your progression."
Revalidation is the process by which all licensed doctors have to demonstrate to the General Medical Council that they are up to date and fit to practise. It is a legal requirement and is designed to ensure quality care for patients.
Sir Bruce warned some surgeons could leave the NHS as a result of the measures.
"We will lose some surgeons. We will, and we have as a consequence of this endeavour," he said.
"The other thing that is more likely, and will help with quality, is that those surgeons who are doing just a small number of operations will think 'I'm not going to do that any more', and they will pass on those operations to their colleagues."
The publication of surgery-specific data was first called for in 2001 by Prof Sir Ian Kennedy, who chaired the inquiry into the excessive number of deaths of babies undergoing heart surgery in Bristol.
Until last year only heart surgeons published data down to an individual level.
Some doctors have been resistant to widening publication of data for nine surgical specialties and cardiology, as there is concern it can be misleading when those carrying out the most complex cases appear to be performing badly.
The Royal College of Surgeons said the profession was open to sharing of data.
"'Surgeons do not need to be forced to hand over results. Surgeons participate in audit as part of their professional practice," said Clare Marx, President of the Royal College of Surgeons.
League tables published last year provided information on specialities including vascular and orthopaedic surgery.
Health Secretary Jeremy Hunt warned at the time that those refusing to take part would be publicly named.