Paedophile group linked to Savile show guest
By Tom Bateman
Reporter, Today programme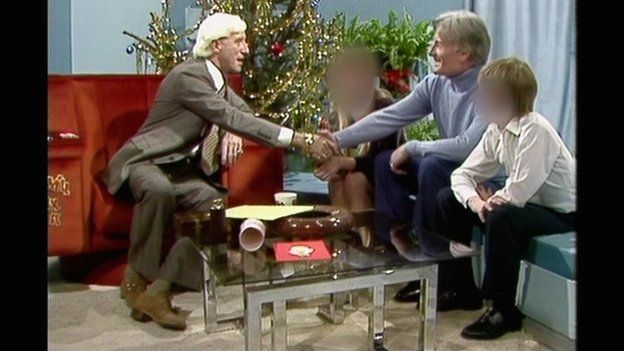 A British antiques expert who restored items for royalty was a child abuser involved in a notorious paedophile campaign group, the BBC can reveal.
Keith Harding was active in the Paedophile Information Exchange (PIE), according to documents seen by the BBC.
A former chairman of the British Horological Institute, he appeared alongside Jimmy Savile in a Christmas edition of the BBC's Jim'll Fix It.
Harding, who died in June, had been convicted of sex offences in the 1950s.
A man who appeared on the Christmas 1980 episode as a boy has told BBC News the feature was "set up" by the production team, who approached the family and asked for a letter to Savile to be written.
It has not been possible to establish the precise motive for Harding's appearance on the show.
Richard Scorer, from the legal firm Slater & Gordon, which is representing nearly 200 alleged victims of Savile, described the Jim'll Fix It revelation as "extremely troubling".
"It is precisely the sort of allegation that the government child abuse inquiry needs to investigate in detail," he said.
Child protection campaigners have called for the official inquiry into historical abuse to examine the extent of Harding's business and political links.
He was convicted of indecent assault against four children aged eight and nine in the late 1950s and was a "schedule 1" offender - meaning his convictions remained on his police file for life.
But he was later given the Freedom of the City of London and became a member of the Worshipful Company of Clockmakers, meeting business and political figures at the height of his career.
The clockmaker and music box expert ran a museum regularly visited by children, despite social services being aware 20 years ago of his convictions for child abuse.
Harding's involvement with PIE, which campaigned for the age of consent to be reduced to four, has never previously come to light.
BBC News has seen confidential social services reports from 1995 which confirm Harding's "PIE involvement".
One of his former employees said the clockmaker had described his role for the group as "membership secretary".
Social services documents described his convictions as a "real cause for concern" and warned that children should not be left unsupervised with him.
In December 1980, the BBC's Jim'll Fix It filmed Harding at his workshop in Islington, north London, where he fixed a music box belonging to a 13-year-old girl whose letter was shown on screen requesting the repair.
She then appeared with her younger brother in the studio alongside Harding and Savile.
The girl's brother Dean, now in his 40s, has told BBC News the feature was "set up" by the production team who instigated the item by approaching the family.
He said: "She was asked to write that letter. The way it came about was that my uncle was asked by his then girlfriend, who was a researcher at the BBC, if anybody in the family had a musical box.
"Obviously the letter must have been done after the facts."
Savile was one of Britain's most prolific sex abusers and is thought to have assaulted hundreds of people between the ages of five and 75.
Dean says he and his sister were chaperoned by a relative throughout their time on the programme and nothing untoward took place.
But he described later learning about both Savile and Harding as "very hurtful", adding: "It takes away your childhood."
It is unclear what motivated Harding's appearance and who at the programme instigated it.
Two sources who worked on Jim'll Fix It at the time said they did not recall the events leading up to Harding's appearance and denied knowing such "set-ups" of guests ever took place.
The BBC said it could not give a "commentary" on the case as it was 34 years ago but pointed to the current inquiry being carried out into Savile's activities at the corporation.
In 1987, Harding moved to Gloucestershire where social services were aware nearly 20 years ago of his criminal convictions.
Gloucestershire County Council declined to comment on the fact that he continued to run a music box museum in Northleach, which was regularly visited by children, until his death aged 82 in June.
A spokesman for the museum said children were always accompanied by adults.
Harding also featured on the children's television programme All Over The Place, which visited his museum in 2012. No children appeared with him.
PIE disbanded in 1984 and a number of its known members have since been convicted of child abuse offences.
Speaking to social workers in the 1990s, Harding denied membership of the group and said he acted as a "counsellor" to its members.
But a document held by police in the mid-1980s listed Keith Harding as PIE member number 329 next to his north London address.
The Metropolitan Police's Operation Fairbank, which is investigating allegations of historical abuse, is understood to be aware of Harding's background.
In a statement, the BBC said: "Today's BBC has appropriate safeguards in place to protect children and young people.
"Dame Janet Smith is making an impartial and independent investigation into the historical culture and practices of the BBC, which will identify lessons to be learned from the Savile period."
The Corporation of London said Harding's vetting for the Freedom of the City was carried out by his livery company.
About 1,800 people receive the honour each year.
The Worshipful Company of Clockmakers said Keith Harding did not disclose his offences and was "never involved in the running of the company".
Related Internet Links
The BBC is not responsible for the content of external sites.