Lord chief justice attacks secret trials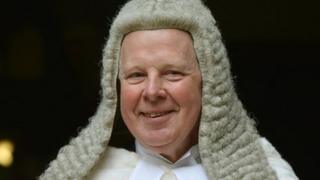 The lord chief justice of England and Wales has condemned an attempt to hold a completely secret trial, saying it should never happen again.
Lord Thomas said defendants should "never, ever" be anonymous in criminal trials because justice must be open.
His comments come after a judge discharged the jury in a secret terrorism trial at the Old Bailey.
The defendant, Erol Incedal, faces a retrial which is expected to feature the same levels of secrecy.
Mr Incedal was charged last year with two offences - preparing for acts of terrorism and possessing a document useful to a terrorist - both of which he had denied.
The trial judge had originally approved a prosecution application - unprecedented in modern times - to hold the entire process in secret, including anonymising Mr Incedal and his then co-accused, Mounir Rarmoul-Bouhadjar.
No reason for the secrecy was given other than a suggestion that prosecutors would scrap the case if the full allegations became public.
Senior judges at the Court of Appeal ruled that total secrecy was unacceptable and ordered the naming of the defendants.
They permitted a group of accredited reporters to witness a small portion of the secret hearings.
Those reporters cannot reveal to anyone what they saw or heard - and the majority of the case - some 40 hours - occurred behind closed doors without the presence of journalists. A third part of the case - 14 hours - was held in open court.
'Exceptional reasons'
Lord Thomas, who is the highest-ranking law officer in England and Wales and presides over the Court of Appeal, said: "We need to get the ground rules straight. We cannot have something like this, in my view, happen again.
"What we don't want, in my view, is a situation where you have anonymous defendants and that the matter has to come to the Court of Appeal to resolve it.
"The prospect of an anonymous defendant is one that I hope we would never, ever see again in our courts."
He added: "I really passionately believe in open justice. Justice that is not open is not good justice.
"There may be wholly exceptional reasons why you can't say very much more than what someone is charged with... but... it is difficult to conceive of circumstances that could ever arise."
He stressed that if there was a need for closed court sessions, then the media must have a chance to challenge such arrangements - and the reasons for the secrecy must be explained "openly and clearly".
The lord chief justice's complaint over the lack of rules covering secrecy in criminal trials comes four years after a similar and parallel row between the judiciary and ministers over attempts to extend the use of secrecy in civil cases.
Ministers attempted to prevent some claims for damages against the security and intelligence services being heard in open court - and they partially lost.
The government then asked Parliament to back new arrangements that permit civil cases to be heard behind closed doors - measures that came into force as part of the Justice and Security Act 2013.