Postal workers to receive missing people alerts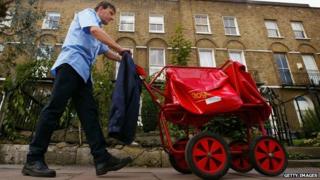 Royal Mail is to join forces with the charity Missing People by distributing alerts with information on vulnerable people to its 124,000 postal workers.
Descriptions and photographs of missing children and adults will go to hand-held scanners which are usually used to track and sign for deliveries.
Alerts will be sent on a geographical and, where relevant, a national basis.
Royal Mail said the move would double the number of people who were receiving alerts and looking for missing people.
The initiative will begin on 1 December and marks the first time an organisation has made its business-wide communication channels available to the national charity.
The child rescue and high risk missing people alerts will also be placed on the Royal Mail's employee website and on 1,800 television screens in its offices, reaching an estimated 148,000 members of staff.
'Eyes and ears'
Jo Youle, chief executive officer of Missing People, said: "When someone goes missing and is at risk, every minute after a disappearance is crucial to bringing them home safely.
"Our partnership with Royal Mail is a truly inspired way to spread an alert quickly and to the very people who are the eyes and ears of their local communities."
Sue Whalley, chief operations officer at Royal Mail, said postmen and women were in a "unique position" to offer help.
Missing People is the only UK charity specialising in reuniting missing children and adults with their families.
About a quarter of a million people go missing in the UK every year, with 140,000 of those under the age of 18.
Charlie Hedges, of the National Crime Agency, said: "It will now be possible for thousands of postal workers to be on the lookout for vulnerable missing children and adults, and that can be of real value to efforts to find them.
"Partnerships like this utilise the strengths of different organisations for the ultimate benefit of our work to make children safer."