Morrisons headquarters employee charged with fraud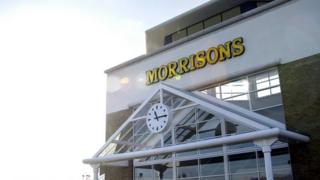 A Morrisons employee has been charged with fraud after an investigation into data theft at the supermarket chain.
Andrew Skelton is alleged to have distributed sensitive information without permission whilst working at the firm's head office in Bradford, West Yorkshire.
He has also been charged with computer misuse and data protection offences.
The details of about 100,000 employees were stolen, the company said in March.
The information, which included bank account details, was published online and sent on a disc to a newspaper, according to Morrisons.
Morrisons said at the time it had ensured the data was taken down immediately and that staff would not be "financially disadvantaged" by the data theft.
In an attempt to reassure shoppers, it also said there had been no loss of customer data.
Mr Skelton will appear at Bradford Magistrates' Court on 2 December.