Peter Wanless Home Office abuse review findings due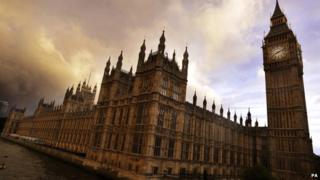 A report into how the Home Office, police and prosecutors dealt with claims of organised child abuse in the 1970s, 80s and 90s is being published.
The probe considered whether the Home Office conducted an adequate review last year into information passed on by the late Tory MP Geoffrey Dickens.
It is not thought to have uncovered glaring problems but will confirm files were destroyed in routine procedures.
Campaigners are now expected to call for a more wide-ranging investigation.
BBC home affairs correspondent Danny Shaw says they are unlikely to accept that the findings of former senior civil servant, Peter Wanless - now chief executive of children's charity the NSPCC - settles the matter.
Mr Wanless's conclusions are being published as a wider inquiry into historical child sex abuse gets under way this week despite the resignation of its chairwoman, Fiona Woolf.
In 1983, Mr Dickens wrote to the then Home Secretary Leon Brittan to say he would expose eight public figures who he suspected of child abuse unless action was taken.
His information was said to contain the names of MPs and police officers who were suspected of being child abusers.
In 2013, the Home Office's senior civil servant Mark Sedwill commissioned a review into the department's handling of abuse allegations between 1979 and 1999, including the information provided by Mr Dickens.
It found no record of specific allegations by Mr Dickens of child sex abuse by prominent public figures but revealed the department had "lost or destroyed" 114 files.
In July, the current Home Secretary, Theresa May, asked Mr Wanless to examine this review, amid concerns about its integrity.
A source told the BBC's Newsnight last week that Mr Wanless's review could find no evidence the information compiled by Mr Dickens - the so-called "Dickens' dossier" - still exists.
Lord Brittan has dismissed claims he failed to act appropriately on Mr Dickens' claims as "completely without foundation".
The wider probe into historical child sex is one of a number of inquiries taking place into alleged child abuse, including the extent of abuse by Jimmy Savile at schools, NHS hospitals, care homes and the BBC.
City lawyer Fiona Woolf's resignation as the inquiry chairwoman came after victims' groups cited her social links with Lord Brittan.
Her predecessor in the role, Baroness Butler-Sloss, also resigned, similarly over her links with establishment figures.