Overnight police detention for charged youths to end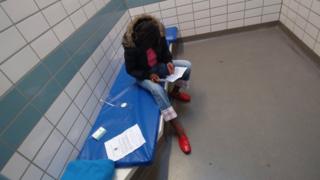 Most 17-year-olds in England and Wales will no longer be held in police cells overnight if charged with an offence.
Policing Minister Mike Penning confirmed to BBC Radio 5 live Daily the rules will be amended next spring.
Unless they are suspected of being dangerous, they will then be treated like 15- and 16-year-olds, and moved to secure local authority accommodation.
It comes after the High Court ruled 17-year-olds should not be treated in the same way as adults at police stations.
The government accepted the findings of the High Court judges in April last year and had began to review procedures.
But three 17-year-olds have killed themselves in the past two years after their detention by police and the Just for Kids Law charity had been pushing for the Home Office to bring in the changes to overnight custody practices for those not given bail.
A petition started after the death of Kesia Leatherbarrow in Hyde, Greater Manchester last December had attracted more than 28,000 signatories.
It is understood the Home Office's announcement came as a surprise to the campaigners, who had been planning to seek a judicial review over the issue of police detention.
Mr Penning said: "I am committed to ensuring that young people are protected and treated appropriately while in police custody.
"The law is clear that any child who is charged with an offence should not be held overnight in a police cell unless it is impractical to transfer them to local authority accommodation.
"It is vital that appropriate safeguards are ultimately put in place for all under-18s who come into contact with the police."
The move will revise the definition of "arrested juvenile" in Part IV of the Police and Criminal Evidence (PACE) Act 1984.
It has been brought forward as an amendment by Lord Listowel to the Criminal Justice and Courts Bill.
'Outstanding areas'
The case that sparked the changes was brought by Hughes Cousins-Chan, who had been kept in custody for 12 hours and strip-searched after being arrested on suspicion of robbery in April 2012.
The teenager, from Tulse Hill in south London, was released after almost 12 hours and was informed by letter a month after his arrest that his bail would be cancelled. He was not charged.
Supporters of his legal challenge had argued that the law created an anomaly because 17-year-olds were treated as children in all other areas of the criminal justice system.
Judges agreed it was "inconsistent with the rights... enshrined in Article 8 (of the European Convention on Human Rights) for the secretary of state to treat 17-year-olds as adults when in detention".
The Home Office said the ending of overnight detention in police cells "supplements changes" already made in light of the ruling. Since October 2013, 17-year-olds have been provided with an adult representative and a person responsible for their welfare has been informed of their detention.
It added it was seeking to amend "all outstanding areas", such as drug testing situations where 17-year-olds can still give independent consent.
The Home Office had estimated that about 4,700 17-year-olds were being detained in police stations overnight each year.
But despite the guidelines, Manchester Assistant Chief Constable Dawn Copley recently told a group of MPs that police and councils needed to be reminded of their statutory duties.
She suggested the lack of available accommodation had led the practice to continue.