Height and width road signs to display metric and imperial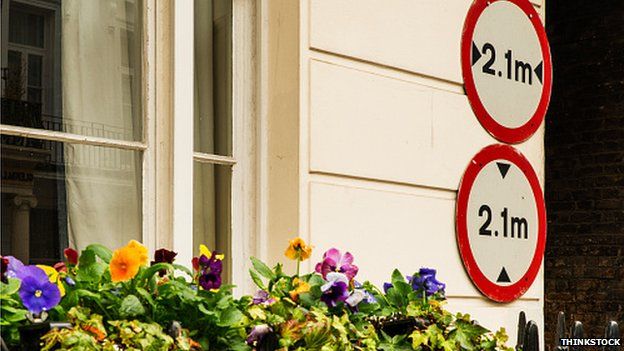 New road signs showing height and width restrictions will use both metric and imperial measurements from March 2015.
Signs without both will be replaced during routine maintenance following a consultation by the Department for Transport, the government says.
Road signs for bridges, tunnels and narrow roads can currently show measurements in just feet and inches or only metres. Some already display both.
The DfT said the changes would make it easier for drivers and improve safety.
There are no plans to introduce metrification for other road signs, such as speed limits.
Pubs: Beer and cider has to be served in a third of a pint, two-thirds of a pint or multiples of half a pint. Metric is used for glasses of wine (175ml or 250ml) and spirits must be served as either 25ml or 35ml
Food: Since 1995, goods sold in Europe have to be weighed or measured in metric, but shops can also label products in imperial
Roads: Petrol is priced and sold in litres (metric) instead of gallons but speed restriction road signs are displayed using miles per hour (imperial)
Britain first laid plans to introduce metric in 1965 but still uses imperial for some measurements.
The Road Haulage Association said: "We'd welcome it on safety grounds.
"As far as foreign operators are concerned, it's got to be good news as it will make their drivers more aware of height and width restrictions."
A spokesman from the AA motoring group said there "can't seem any harm in it at all".
The DfT said: "Dual measures of height and width restrictions make it easier for drivers and are designed to help improve safety on our roads.
"There are no plans to duplicate any other type of traffic sign."