Three guilty over James Bulger killer story payments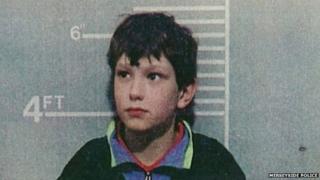 A former News of the World journalist has been convicted of paying a prison officer for stories about James Bulger's killer Jon Venables.
The reporter - not named for legal reasons - was found guilty of conspiracy to commit misconduct in public office.
Prison officer Scott Chapman and ex-partner Lynn Gaffney were also convicted of the same charge.
Chapman, 42, made up to £40,000 by selling information to journalists.
Venables, along with friend Robert Thompson, was jailed for life for murdering toddler James Bulger in 1993 and was given a new identity after being released on licence.
The Old Bailey heard that Chapman started selling stories about Venables when he was returned to prison in 2010 for child abuse images offences.
Some of the payments, which came from a number of different newspapers, were channelled through the bank account of 40-year-old Gaffney.
'Financial gain'
The journalist is the first to be convicted after a trial as part of Operation Elveden, the police investigation into newspapers.
During the trial, the court heard Chapman first contacted the Sun but went on to sell stories to other newspapers.
Tabloids published a series of articles about Venables' life in jail, including his efforts to lose weight and his love of Harry Potter books.
The News of the World journalist said it had been in the public interest to write about Venables and the fact the Prison Service had made his life "as comfortable as possible".
But prosecutor Jonathan Rees QC questioned whether such stories were in the public interest, describing them as "drivel" and "tittle tattle".
---
The James Bulger case
James Bulger was a few weeks away from his third birthday when he was reported missing from outside a butcher's shop in the New Strand Shopping Centre in Bootle, Merseyside, in February 1993.
His mother Denise had turned away for just a few moments.
CCTV footage would later show James being enticed from the shop doorway by two older boys. He was seen being walked out of the shopping centre, holding the hand of one of the boys who would go on to kill him.
James's body was found on a freight line two days later.
Jon Venables and Robert Thompson, both aged 10, were arrested and charged within days. They were convicted of murder at Preston Crown Court in November 1993.
Eight years later, both were freed from secure children's homes and given new identities. In 2010, Venables was sentenced to two years in prison for the possession and redistribution of indecent images of children.
---
Det Ch Supt Gordon Briggs of the Metropolitan Police said the prison officer had "abused his position of trust" to sell confidential information.
He said: "Scott Chapman and Lynn Gaffney were motivated primarily by financial gain. The journalists exploited that to their own advantage without lawful justification."
Chapman and Gaffney, both of Corby, Northamptonshire, and the reporter were found guilty on Wednesday but the verdicts can only now be reported after a ruling by an Old Bailey judge.
Another journalist, 37-year-old Tom Savage, who worked for the Daily Star Sunday, was found not guilty of the same offence.
Judge Charles Wide warned Chapman he should expect his jail term to be counted in years rather than months.
He told the reporter he was conscious the conviction was on the basis of two stories sold by Chapman, but warned the journalist to be "under no illusions".
Sentencing will take place at a later date.