Sun editor Brooks 'signed off payment requests'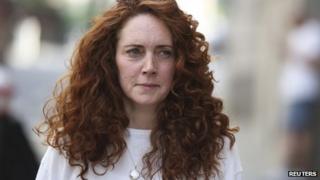 Two former editors of the Sun, Rebekah Brooks and Dominic Mohan, were responsible for signing off requests for cash payments to confidential sources, a jury has been told.
The allegation was heard during the trial of six Sun journalists accused of making illegal payments to public officials, at Kingston Crown Court.
The six men deny conspiring to commit misconduct in a public office.
Mrs Brooks was cleared in June of agreeing illegal payments.
She was found not guilty of two counts of conspiracy to pay public officials, two counts of conspiracy to pervert the course of justice and conspiracy to hack voicemails.
Murder team claim
The court also heard Scotland Yard had deployed more than twice as many officers and staff to investigate journalists over illegal payment claims than it had on its murder team.
More than 100 suspects have been investigated as part of the Met's Operation Elveden investigation, the court was also told.
The defendants charged with conspiring to commit misconduct in a public office are:
Head of news Chris Pharo, 45, of Sandhurst, Berkshire - six counts
Former managing editor Graham Dudman, 51, of Brentwood, Essex - four counts
Former deputy news editor Ben O'Driscoll, 38, of Windsor, Berkshire - four counts
Picture editor John Edwards, 50, of Brentwood, Essex - three counts
Reporter Jamie Pyatt, 51, of Windsor, Berkshire - three counts
Former reporter John Troup, 49, of Saffron Walden, Essex - two counts
Prosecutors allege the men conspired to pay officials from 2002-11, including police, prison officers and soldiers, for confidential information about the Royal Family, celebrities and prison inmates.
The court has previously been told they made illegal payments on "a grand scale".
The jury was shown an email sent in 2006 to a number of journalists by Mr Dudman, in which he said: "No cash payments will be made without Rebekah's written approval."
He was referring to Mrs Brooks, who was Sun editor between 2003 and 2009.
The court was also shown authorisations for payments signed by Mr Mohan, who was editor between 2009 and 2013 which, the jury heard, had "surfaced" recently.
Retired detective superintendent Mark Kandiah, who was senior investigating editor on Operation Elveden after previously serving as a senior murder detective, was asked if it was the biggest inquiry ever conducted by Scotland Yard.
The officer said he could not confirm this, but told the jury: "Certainly there were more than 70 officers or police staff at its highest point - more than twice than what I had on my murder team."
The jury also heard that News Corp had handed documents relating to News Of The World and the Sun voluntarily to police through its management standards committee (MSC) in the wake of the phone hacking scandal in 2011.
'Kill company'
Asked if they were "shopping" their own staff, Mr Kandiah responded: "Those are your own words."
The former detective was asked by the lead prosecutor, Peter Wright QC, whether police did any of their own investigation.
He said Operation Elveden carried out electronic searches of News International and police databases, requested financial information and accessed company telephone data.
The court also heard that at a meeting with police in 2012, News Corporation lawyer Gerson Zweifach was worried the investigation into alleged payments could expand to cover the company as a corporate body.
He said: "This could kill the company and put 46,000 jobs at risk."
The trial continues.