Jimmy Savile trust challenges victims' compensation scheme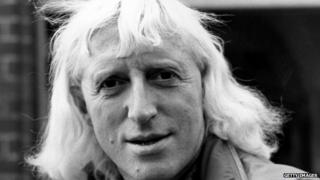 A charitable trust has launched an Appeal Court challenge over the compensation scheme for people who say they were abused by Jimmy Savile.
The scheme was set up by the Savile estate, the BBC, the NHS and lawyers representing alleged victims of the radio DJ.
It received High Court approval in February despite objections from the Jimmy Savile Charitable Trust.
Representatives of the trust argue more money will go to lawyers than victims.
They say funds which could be used for charitable causes will be diverted, and that there is no way of weeding out false claims.
Robert Ham, a barrister acting for the Jimmy Savile Charitable Trust, said the arrangements for compensation did not include a way assess the validity of alleged victims' cases.
He added it was "a matter of common sense these sort of situations are likely to attract numbers of fraudulent claims".
He stressed that neither the trust nor the trustees were "in any way" implicated in allegations made against Savile.
The trust is a registered charity with aims including the "relief of poverty" and the "relief of sickness".
'Complex situation'
Lord Justice Patten, one of the judges hearing the arguments, said the court had received a letter from the Charity Commission expressing concerns about the trust's charitable funds being "diverted to the costs of litigation".
Lawyers representing alleged victims fear that further legal action might run up costs which will eat into the money available for compensation.
When the compensation programme was established, Mr Justice Sales described it as a "sensible and pragmatic" attempt to resolve a "complex situation".
He also ruled that the trust should pay legal bills of more than £250,000 run up by alleged victims in the fight to secure the compensation scheme.
The judge specified about 140 people had "intimated" that they had personal injury claims against Savile and his estate in relation to sexual abuse.
The trust's lawyers say the number of people intending to make claims has now risen to more than 160.
Savile, a Radio 1 DJ who also presented the BBC's Top Of The Pops and Jim'll Fix It, died aged 84 in October 2011 - a year before allegations that he had sexually abused children were broadcast in an ITV documentary.
Research carried out by the NSPCC for Panorama in June found that most of the abuse took place on BBC premises, in hospitals and at children's homes.
A series of reports published in July indicated that he sexually assaulted victims aged five to 75 in NHS hospitals over decades of unrestricted access.
The hearing is expected to last two days.