Ebola appeal receives £4m in two days, organisers say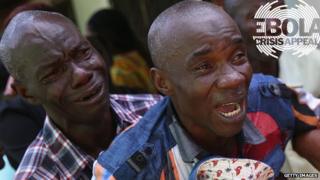 A public appeal to help people affected by the Ebola crisis in West Africa has received £4 million in donations in its first two days, organisers have said.
The Disasters Emergency Committee (DEC) said it had been "overwhelmed" by the "extraordinary generosity" of the UK public since the appeal was launched.
The UK government is to match the first £5 million of donations made.
Ebola has killed almost 5,000 people and infected more than 13,000 in West Africa since the start of the year.
On Friday, the World Health Organisation said 4,951 people had died during the current outbreak, with 13,567 reported cases up to 29 October.
Protective clothing
Donations have been made after appeals were aired by the main UK broadcasters on Thursday.
It is the first time the DEC has sought funds in response to a disease outbreak.
"We are extremely grateful to the UK government for the aid match funding which is a significant boost to the appeal," chief executive of DEC Saleh Saeed said.
"The UK government will match a further £1 million raised, so we encourage the UK public to donate as soon as possible to double the amount of their donation.
"Our member agencies have already achieved so much - providing protective clothing, educating communities and supporting safe and dignified burials - but there is so much more to do."
Agencies have been increasing their aid efforts in West Africa, where they have already helped more than 2.5 million people affected by the Ebola crisis, a DEC spokesman said.
They included people in some in the worst-affected and most remote areas of Sierra Leone and Liberia, the spokesman added.
---
Deaths from Ebola
---
Justin Forsyth, chief executive of the charity Save the Children, said donations would make "a massive difference" by helping to pay for nurses and doctors on the ground.
Speaking to the BBC from Sierra Leone, he said officials needed additional staff and equipment and called on more governments around the world to offer financial support.
"It is getting worse, not better, on the ground here; we are not yet ahead of the curve, we are in a race against time and we need to urgently act on the ground - and money if very, very important," he said.
It comes after Canada announced it was to suspend visa applications from residents and passport-holders from West African countries affected by the Ebola outbreak.
The decision follows a similar decision by Australia, which drew criticism from the World Health Organization (WHO).
The ban would apply to countries with "widespread and persistent-intense transmission", Canada said.
---
Other Disasters Emergency Committee (DEC) appeals:
A total of £71m was raised by the Pakistan Floods Appeal which affected more than 18 million people. The floods swept across the country in July and August of 2010
The UK public donated £95m for the Philippines Typhoon Appeal which has to date helped more than 900,000 people. The appeal was launched in November 2013
The Syria Crisis Appeal opened in March 2013 and has raised about £25m
An appeal for people affected by the fighting in Gaza was launched in January 2009 and raised £8.3m
A total of £107m was raised for people adversely affected by the earthquake in Haiti
---
To make a donation to the DEC Ebola Crisis Appeal visit www.dec.org.uk