Rolf Harris loses first conviction appeal bid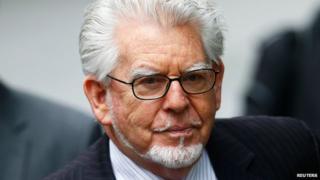 Rolf Harris has lost the first round of a legal challenge against his conviction for indecent assaults.
The disgraced entertainer was jailed in July for nearly six years for 12 indecent assaults on four girls, including one aged just seven or eight.
The Judicial Office confirmed a judge had refused his application for permission to appeal, lodged in August.
But the 84-year-old can still renew the application before three judges at the Court of Appeal.
The artist, TV presenter and musician was convicted at London's Southwark Crown Court in June.
'No remorse'
He was jailed for five years and nine months for the offences, which took place between 1968 and 1986.
Attorney General Jeremy Wright decided in July not to refer Harris's sentence to the Court of Appeal despite 150 complaints over its "leniency".
He said he did not think judges would find it to be unduly lenient and increase it.
Harris's victims included a young autograph hunter, two girls in their early teens and a friend of his daughter's against whom he committed a catalogue of abuse over several years.
One victim said the abuse had taken away her "childhood innocence".
Mr Justice Sweeney said upon sentencing that Harris took advantage of his celebrity status and had shown "no remorse".
Earlier this year, the Metropolitan Police said they had received "a number of allegations" about Harris since his conviction, which are being investigated.