Should all English cities have mayors?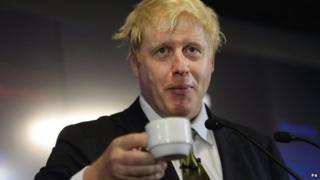 Greater Manchester is to get an elected mayor, George Osborne has announced. There have been numerous calls for greater decentralisation of power within England in the wake of the Scottish referendum. Could more elected mayors be the answer?
Ask a dozen people to name a mayor in England and most will come up with London Mayor Boris Johnson.
The charismatic blond-haired Old Etonian, who combines the gravitas of his role with an unkempt, humorous, almost "bumbling Boris" persona, certainly knows how to get publicity.
But Mr Johnson is one of 16 directly elected mayors in England. Not many others have a national presence.
Advocates of the mayor model of further devolution say that's not the point. Mayors are meant to be local champions. The important thing is whether people in their community know their name and what they do.
On Monday, Chancellor George Osborne announced that Greater Manchester is getting an elected mayor to preside over regional issues. He has also indicated that Birmingham could get one.
But mayors haven't been popular recently. In 2012, nine out of 10 cities - including Manchester - rejected the idea of replacing local council cabinets with directly elected mayors in referendums.
So are mayors suddenly back in fashion?
The first thing to point out is that not all mayors are the same.
Many councils have a civic mayor. They carry out ceremonial duties and chair meetings, but can't make decisions about council business.
Directly elected mayors were first introduced to England and Wales by the Local Government Act 2000. The mayor of London was the first - created as the executive of the Greater London Authority, with responsibility for the strategic direction of transport, policing and economic development in the capital.
Unlike the London mayor, the other 15 authorities that have adopted the "mayor and cabinet" model - as opposed to "leader and cabinet" or the "committee system" - haven't got any more powers than non-mayoral local authorities.
Greater Manchester's "metro-wide mayor", like London's, would. The new mayor will oversee policies such as transport, social care and housing as well as police budgets in the area's 10 local authorities - hence the focus on Greater Manchester rather than just the City of Manchester.
The shift to extra powers and to entire urban conurbations creates a different mayoral proposition. But it still involves a mayor at the helm.
So could more directly elected mayors with further reach be the way forward?
Stand outside Bristol City Hall, home to the only mayor that was voted for in the 2012 referendums, and most residents have some idea who does the job.
"It's George - people refer to him as 'the man with the red trousers'," says 63-year-old retired nurse Kate Thornton. "It's Bristol red pants," echoes 72-year-old Sally Harvey.
Bristol mayor George Ferguson was elected on a 28% turnout, not much higher than the 24% turnout at the referendum, when the introduction of a mayor was backed by a margin of 53% to 47%.
Some residents, like Mrs Harvey, were outraged a mayor was elected by so few people. "I destroyed my paper - I've never destroyed a paper before," she says.
However, others welcomed the move. "I voted for a mayor and for George Ferguson. I felt Bristol was paralysed in terms of city planning and thought a mayor would enable more radical decisions and help put Bristol higher up the national agenda," says 41-year-old accountant Louise Wellesley.
Independent Bristol Mayor George Ferguson didn't respond to attempts to ask him about the difference he felt a mayor had made to Bristol.
The council website cites winning the title of European Green Capital for 2015, moving Bristol closer to having a 12,000 capacity arena, upgrading the MetroBus scheme and tackling congestion, road safety and parking problems as among the city's achievements.
The verdict on the streets outside the mayor's office is more mixed.
Sarah Hickey, 24, says the move to "make Sundays special" by freeing the city centre of traffic once a month and putting on community cultural and leisure events stands out as a success.
She says the city's residential parking schemes, and a new 20mph limit for many city streets, have been less popular. "Some people have put posters in the window opposing them."
Although Ms Hickey didn't vote for a mayor in 2012, she says she would vote for one now. "Anything that encourages young people to engage with governance is a good idea," she says.
Mrs Thornton, who did vote in 2012, says she'd vote again. "A mayor is good for a city - it's someone visible that people can turn to," she says.
However, not everyone agrees. Jade Stadman, 25, has lived in Bristol all her life. She didn't vote for a mayor, and she wouldn't vote for one in the future. "I don't see any changes in Bristol and don't like the idea of a single person making rules - it should be about communities," she says.
Others, like university language tutor Steve Gillway, 50, simply don't think Bristol needs one.
Nevertheless, the momentum for mayors seems to be gaining pace.
Last month, right-leaning think tank ResPublica recommended Manchester should "lead the way" on devolution for cities, with an elected mayor, assembly, income-tax raising powers and complete control of spending within five years.
The RSA City Growth Commission published a report in October that recommended allowing UK cities to make their own decisions on tax and spending to boost economic growth.
At the time, Mr Ferguson said he welcomed the report and that Bristol was "extremely well-placed to take on greater powers". He welcomed closer working with the wider city region and Cardiff.
On Wednesday, Mayor of Liverpool Joe Anderson said Merseyside needed to have an elected mayor to "make a real difference" to the people of the region and he would be interested in running for the role.
He told the BBC mayors brought "a new focus previously lacking locally, nationally and internationally" to cities and wider urban conurbations.
"Having a directly elected mayor has put Liverpool firmly on the front foot - long-term challenges of economic and population decline have been overcome and the city has transformed its infrastructure, its appearance and its image - and it can work for other cities too.
"The city has a grasp on its future like never before. The people have greater involvement in the decisions that affect their lives - the very definition of democracy. But this can only work if we get are more resources and more powers. Politicians elected locally are better placed to make decisions about the places they govern," he said.
Of course there will always be those who give the idea of mayors short shrift.
And some mayors have had more bad press than others.
The government said a recent report into Tower Hamlets Council in London - where directly elected mayor Lutfur Rahman is at the helm - reveals a "culture of cronyism". Mr Rahman has denied all allegations of electoral malpractice.
But now, more than ever, it seems a mayor could be coming to a city or region near you.