Church of England general synod to be addressed by Muslim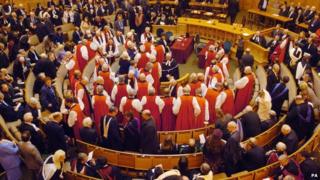 A Muslim speaker is to address the Church of England's general synod for what is thought to be the first time.
Activist and journalist Fuad Nahdi will take part in an event looking at the conflicts in Iraq and Syria.
He will join a panel exploring the "unspeakable evil" religious minority groups have faced in the countries.
Synod general secretary William Fittall said he believed the event next month would be the first time a non-Christian had addressed the assembly.
"We have certainly had people from other faiths in the gallery who have been greeted by the synod, who have been welcomed," he added.
Mr Nahdi is executive director of the Radical Middle Way faith group and founding editor of Muslim magazine Q News.
Atrocities
The panel will also feature the leader of the Coptic Christian Church in the UK, Bishop Angaelos, alongside the Bishops of Coventry and Leeds.
A report produced for the synod discussion says Christians have been attacked by Islamic State (IS) fighters in Iraq with a "narrow religious ideology", alongside Yazidis, Alawites and other Shia Muslims.
It also accused Syrian President Bashar al-Assad of carrying out atrocities against his country's Sunni population.
It adds: "The boundaries in this struggle are blurred and fluid. Not surprisingly religious minorities can be found on opposing sides of conflicts that have caused untold human suffering for all."
The discussion will take place on 18 November.