Richard and Judy file complaint after troll rape threats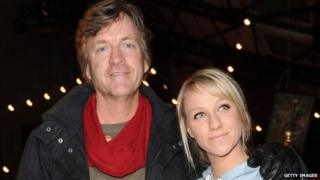 TV presenters Richard Madeley and Judy Finnigan have made a formal police complaint after rape threats were made against their daughter.
Chloe Madeley received threats on Twitter after defending Ms Finnigan, who caused controversy when she described a rape committed by footballer Ched Evans as "non-violent".
The family said they have given police "a substantial amount of evidence".
Evans was jailed for five years in 2012 for raping a 19-year-old woman.
A statement from the family said: "Following legal advice, our family has now made a formal complaint to the Metropolitan Police about cyber-stalking, harassment and, most recently, rape threats made against Chloe on Twitter.
"We have presented the police with a substantial amount of evidence, and they have launched an immediate investigation.
"We will be making no further comment at this time."
'Utterly pathetic'
Evans has served half of his sentence, and was released last week. On Wednesday he released a video statement in which he said he was "determined to continue the fight" to clear his name.
Speaking on ITV's Loose Women about the possibility that Evans could return to professional football, Ms Finnigan said the 25-year-old had "served his time".
She said: "The rape - and I am not, please, by any means minimising any kind of rape - but the rape was not violent, he didn't cause any bodily harm to the person.
"It was unpleasant, in a hotel room I believe, and she [the victim] had far too much to drink."
In a statement after the show, she said she was discussing what should happen to prisoners after their release.
"I absolutely wasn't suggesting that rape was anything other than an horrendous crime," she added.
Reacting to the situation with her own Twitter post, Chloe Madeley, 27, wrote: "To believe my mother is pro 'non violent rape' is ridiculous and I am shocked that so many people have jumped to this conclusion.
"To the trolls wishing rape on me, stop, you are utterly pathetic."
On Sunday Justice Secretary Chris Grayling said that internet trolls could face up to two years in jail under new laws he has proposed.
Evans was not sacked by his club, Sheffield United, when he was sent to prison - but the club allowed his contract to expire in June 2012.