Duchess of Cambridge attends addiction charity gala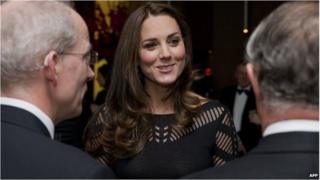 The Duchess of Cambridge has made her second solo public appearance since announcing she is pregnant again.
Catherine, who is 12 weeks pregnant, attended an autumn gala evening for the Action on Addiction charity, of which she is a patron.
On Tuesday, she attended London's Wildlife Photographer of the Year awards after welcoming the president of Singapore with the Duke of Cambridge.
The duchess missed recent engagements owing to extreme morning sickness.
Thursday's event, which aims to raise money to help free people from drug and alcohol addiction, was also attended by comedian and impressionist Rory Bremner.
Action on Addiction chief executive Nick Barton said: "The charity's mission is to free people from addiction and we hope this evening will help us to make further progress in achieving that aim."
Writing in the programme for the gala, the duchess highlighted the charity's "life-changing" work.
She wrote: "As I am sure you are aware, the impact of addiction can be extremely damaging for individuals, families and the wider community.
"During the time I have spent with clients and staff I have been privileged to see the phenomenal work which the charity undertakes to improve the lives of those affected by addiction.
"The stories of recovery are remarkable; and Action On Addiction's role in helping people achieve this is truly inspiring."
Action On Addiction runs two residential treatment centres, Clouds House in Wiltshire and the women-only Hope House.
It also runs day treatment programmes in Liverpool, Bournemouth and London.
During the event, the duchess met Hans Rausing, the Swedish heir to the Tetra Pak fortune, who once kept his wife's body in their west London home for two months after she died from a drugs overdose.
He was given two suspended sentences over the discovery of Eva Rausing, 48, in July 2012, after she died from cocaine abuse.
He attended the gala with his new wife Julia, and the couple spoke to the duchess shortly after she arrived.
Mrs Rausing said: "It is wonderful to be here this evening and [was] wonderful to chat to her."
It was announced on Monday that Prince William and Catherine's second child is due in April.
Before Tuesday, the duchess's last public appearance was at the start of August in a visit to the Tower of London's World War One poppy installation.