Paying for sex 'should be illegal', campaigners say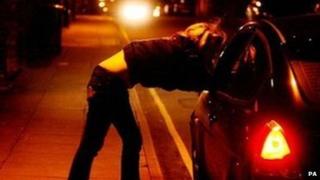 People who pay for sex should face prosecution, campaigners have urged.
The 'End Demand' campaign also calls for the selling of sex to be decriminalised.
It highlights Sweden, where a similar change in the law in 1998 has reportedly seen a reduction in the number of street prostitution cases.
Crime Prevention Minister Norman Baker said there were "no current plans to reconsider the legislation around prostitution".
The campaign is supported by the Trades Union Congress Women's Committee, the charity Women's Aid, and the End Violence Against Women coalition.
Kat Banyard, a spokeswoman for the End Demand campaign, said the prostitution trade was "underpinned by the principles of supply and demand".
"By decriminalising selling sex and criminalising buying sex, the Sex Buyer Law [in Sweden] shifts the burden of criminality from those exploited through the trade to those who create the demand," she said.
According to the Office of National Statistics, there were an estimated 60,879 prostitutes working in the UK in 2009.
'Laws ineffective'
A spokesperson for the English Collective of Prostitutes said criminalising paying for sex would make it "more dangerous and stigmatising for sex workers".
The collective said that in Sweden, sex workers "facing violence are now too afraid to go to the police for protection as the stigma of prostitution has increased."
On Tuesday, the Northern Ireland Assembly voted overwhelmingly to make paying for sex illegal - although the private member's bill still has legislative hurdles to go through before the law is changed.
Prostitution is technically legal throughout the UK although related activities, such as soliciting for sex in a public place, are outlawed.
Next month MPs will vote on an amendment to the Modern Slavery Bill, which would make it an offence to procure a sexual act.
The amendment, tabled by Labour MP Fiona MacTaggart, has also attracted support from Conservative MPs.
Fiona Bruce MP, who sits on a cross-party group dedicated to the issue, described existing laws as "ineffective", and said in Sweden, legislation had "proved easier to enforce".
There have been "approximately 3,000 convictions" in the country, she added.
'No plans to change'
Seema Malhotra, shadow minister for preventing violence against women and girls, said: "With as many as 2,600 migrant women trafficked into England and Wales each year, and up to 5,000 children involved in prostitution at any one time, it is clear we need change."
But Lib Dem minister Mr Baker said it was already illegal to pay for sex from someone "subjected to force, coercion, or threats".
"The most important thing we can do is to ensure we protect the vulnerable people involved in prostitution who are at risk of harm and exploitation," he added.
"We will ensure that legislation surrounding prostitution remains effective and continue to work with law enforcement agencies and the voluntary sector to achieve this."