DJ Dave Lee Travis sentence 'not unduly lenient'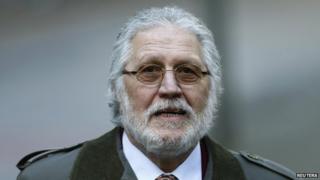 Former DJ Dave Lee Travis's three-month suspended sentence for indecent assault will not be referred to the Court of Appeal.
In a statement, the Attorney General's office said the sentence was "neither wrong in principle nor unduly lenient".
Travis was sentenced last month after being found guilty of indecently assaulting a woman in 1995.
The sentence was considered for referral following complaints from four members of the public.
Explaining the decision not to refer the case to the Court of Appeal, a spokesman for the Attorney General Jeremy Wright said: "He does not believe the court would find the sentence to be unduly lenient and increase it."
The spokesman added: "The judge marked the seriousness of the offence by imposing a 3 month sentence of imprisonment, the maximum under the guidelines being 6 months.
"It was neither wrong in principle nor unduly lenient to suspend that sentence."
'Unpleasant sexual attack'
Travis, 69, from Aylesbury in Buckinghamshire, was convicted of attacking a researcher who was working on the TV programme The Mrs Merton Show.
He cornered the woman in the corridor of a television studio where she was smoking and commented on her "poor little lungs" before squeezing her breasts for 10 to 15 seconds.
Judge Anthony Leonard, who sentenced him, called it "an intentional and unpleasant sexual assault."
After being sentenced, Travis - a former Radio 1 DJ and presenter of Top of the Pops - said he was "mortified" and "really disappointed" over his conviction, and claimed that the prosecution had failed to prove that he was a sexual predator.
He was cleared of two other charges, an alleged indecent assault from 1990 and an alleged sexual assault from 2008.
In an earlier trial in February, he was cleared of 12 indecent assault charges.