Ebola screening to begin at Gatwick Airport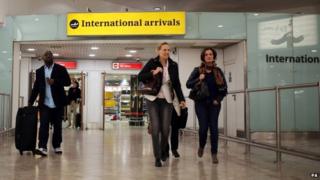 Gatwick Airport will start screening passengers arriving from countries at risk of the Ebola virus from Tuesday.
Screening will start at the north terminal and will be extended to the south terminal by the end of the week.
Heathrow airport began screening last week and screenings for Eurostar passengers arriving at St Pancras station are expected to start soon.
Passengers will have their temperatures taken, complete a risk questionnaire and be asked to leave contact details.
Anyone with suspected Ebola will be taken to hospital.
The UK and the US have both introduced screening measures in response to the threat from Ebola, which has killed more than 4,500 people in West Africa.
It is thought that new screening procedures at Gatwick airport will affect passengers on about seven flights throughout the day.
The Department of Health estimates that 85% of all arrivals to the UK from affected countries will come through Heathrow airport.
---
How will screening work?
Under the screening measures, passengers are identified by UK Border Force officers on arrival before nurses and consultants from Public Health England carry out the actual screening.
It will involve taking people's temperatures to check whether they have a fever - one of the main symptoms of Ebola.
They will also be asked questions to assess their risk including:
Have you been near anyone with confirmed Ebola virus disease ?
Have you cared for or anyone with a severe illness, or who has died of an unknown cause?
Have you been vomiting or do you feel generally unwell?
Have you had any contact with dead bodies or been to any funerals?
Blood tests can help identify the virus, but airports do not currently have this capacity so anyone with suspected Ebola will be taken to hospital.
The time from exposure to the virus to a person showing symptoms can vary from two to 21 days so some people who later go on to develop the infection might not be picked up.
Therefore passengers deemed to be at high risk due to contact with Ebola patients, but who are displaying no symptoms, will be contacted daily by Public Health England.
Travellers will also be given advice on who to call and what to do if they become unwell at a later stage.
---
'Handful of cases'
There are no direct flights to the UK from the most affected countries - Liberia, Sierra Leone or Guinea - which means people travelling from those areas would have to catch a connecting flight to the UK and could arrive at airports that are not screening passengers.
Air passengers leaving affected countries are also screened before being allowed to board their planes.
The UK had initially said screening was unnecessary but British officials later said it would offer an additional level of protection.
There is no known cure or vaccine for Ebola, which is transmitted through sweat, blood and saliva.
Symptoms include fever, headache, vomiting, diarrhoea and bleeding although these are similar to more common infections like flu and some stomach bugs.
Anyone in the UK suspected to have Ebola will be taken to hospital and blood samples will be taken to Public Health England's specialist laboratory for rapid testing.
If the test is positive, then the patient will be transferred to an isolation unit at the Royal Free Hospital in London. It is the centre that cared for the British nurse William Pooley, who contracted Ebola in West Africa.
Mr Pooley recovered and has since returned to Sierra Leone to resume his work.
England's chief medical officer and chief medical adviser to the UK government, Dame Sally Davies, said last week the UK should expect a "handful" of Ebola cases before Christmas.
So far, the UK government has pledged £125m "to help contain, control, treat and defeat Ebola", hundreds of NHS staff have volunteered to travel to West Africa and 750 troops have been deployed to help build treatment centres.
---
Avoid direct contact with sick patients as the virus is spread through contaminated body fluids
Wear goggles to protect eyes
Clothing and clinical waste should be incinerated and any medical equipment that needs to be kept should be decontaminated
People who recover from Ebola should abstain from sex or use condoms for three months
---
Have you travelled via Gatwick? Have you been screened? Email us with your photos and videos if it is safe to do so at: haveyoursay@bbc.co.uk Please leave your contact details if you are happy to speak to a BBC journalist.
Send your pictures and videos to yourpics@bbc.co.uk or text them to 61124 (UK) or +44 7624 800 100 (international). Or you can upload here.