Solar farms are a blight on the landscape, says minister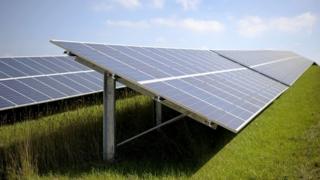 Environment Secretary Liz Truss has said large-scale solar farms are "a blight on the landscape" and confirmed plans to cut a taxpayer subsidy to farmers and landowners for the schemes.
She told the Mail on Sunday the land could be better used for growing food.
There is currently a £100-an-acre grant scheme in place, worth £2m a year.
But the solar industry said the remarks were "damaging and incorrect" since government guidance stated that farming should still continue on the sites.
Ms Truss said: "I want Britain to lead the world in food and farming and to do that we need enough productive agricultural land."
'Real problem'
She described the rows of solar panels as "ugly", telling the newspaper: "I'm very concerned that a lot of our land is being taken up with solar farms.
"We've already got 250 of them and we've got 10,000 football-pitches' worth of new solar farms in the pipeline."
Many parts of southern England have seen a boom in solar power generation in recent years.
The grants are currently made available through the Department for Environment, Food and Rural Affairs from the European Union's Common Agriculture Policy.
Ms Truss said: "Food and farming is our number-one manufacturing industry, the whole food chain represents £100bn in our economy, and it is a real problem if we are using productive agricultural land for solar farms."
She added: "I'm not against them per se - they're fine on commercial roofs and school roofs - but it's a big problem if we are using land that can be used to grow crops, fruit and vegetables.
"We import two-thirds of our apples, and using more land for solar panels makes it harder to improve that."
'Good practice'
But the Solar Trade Association, which represents firms working in solar thermal and solar power, said it was wrong to argue that energy schemes were in conflict with or displacing food production.
"The government's own planning guidance makes clear that farming practices should continue on solar farms on green field land," said Leonie Greene, the body's head of external affairs.
"The industry, working with the National Farmers' Union, has been very careful to define good practice to ensure continued agricultural production."
On land where solar farms are located, she added, 95% of the space was still available for farming or for creating "protected spaces for boosting biodiversity".
'Hand in hand'
Alasdair Cameron from campaign group Friends of the Earth said solar farms could go "hand-in-hand" with food production.
"Poorly sited solar farms should be dealt with through the planning system and sensible policy, not knee-jerk responses to appease reactionary voices," he said.
"Constantly fiddling with renewable energy policies and sending mixed messages to the media will cost Britain dearly in jobs, investment and energy security."
The Department for Energy and Climate Change (Decc) announced plans to limit its support for large-scale solar farms earlier this year.
Subsidies under the existing "renewables obligation" will end next April under the proposals.
Decc said large-scale solar developments had grown faster than expected and would exceed the budget for subsidies by £40m over the next two years.
Campaigners and companies have condemned the move, saying it will undermine confidence in the renewables sector.